Sûri-kylä
Jump to navigation
Jump to search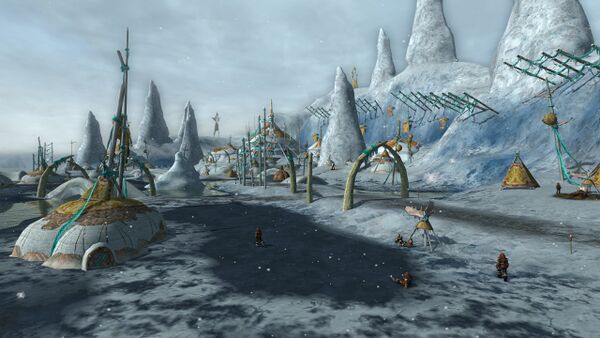 Location
Sûri-kylä is a settlement located within the area of Jä-rannit in Forochel. [19.6N, 71.4W]
The name literally means "large village" in Finnish and it is located on the north-eastern cape of the Ice Bay of Forochel. Here is the seat of the Council, as well as the head-quarters for the Lossoth of Forochel faction. It is very wise not to jump into the water, it inflicts massive frost damage and will take down even the toughest characters within seconds.
Most citizens are hunters or fishermen, but here are also visitors from places very exotic to the robust Lossoth. Throughout the village are all kinds of class trainers, quest givers, several service-minded souls, as well as guards and locals. The Stable-master is found just inside the eastern gates, as is the Milestone. Outside those gates is a Skirmish Camp, somewhat to the north. Uphill and past the Great Lodge, Sûri-kylä connects to the north-most section of Jä-rannit. There is also a boat that takes adventurers to Sâri-surma with its instance.
In the north-western end of the village is the Great Lodge of Sûri-kylä, where the Council is gathered. There are also the reputation reward vendors, selling various items to characters who have reached required standings with the Lossoth of Forochel. Furthermore, the lodge provides a Vault-keeper, some superior crafting facilities with matching expert crafting vendors, as well as other vendors.
Services
The following services can be found within the settlement of Sûri-kylä:
Mailboxes
Interiors
Crafting
Travelling
Quests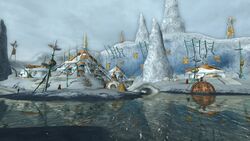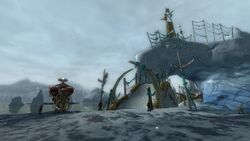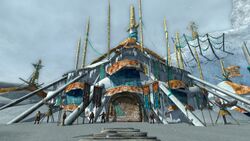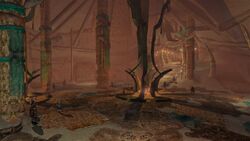 See the "starting quests" for all quests starting in the village and the Great Lodge
Starting
Involving
NPCs
See the Great Lodge of Sûri-kylä for crafting and reputation vendors as well as quest givers.
Supplies & Services
Class Trainers
| NPC | Function | Coords |
| --- | --- | --- |
| Kalervo | Burglar Trainer | [18.8N, 72.0W] |
| Reginald Ward | Captain Trainer - Quest | [19.1N, 70.8W] |
| Tahvo | Captain Trainer | [19.1N, 72.2W] |
| Väinämõ | Champion Trainer | [19.2N, 71.9W] |
| Mainio | Guardian Trainer | [19.1N, 72.2W] |
| Nef | Guardian Trainer - Quest | [19.4N, 71.3W] |
| Okko | Hunter Trainer | [18.8N, 72.4W] |
| Sana | Lore-master Trainer | [19.0N, 72.2W] |
| Ulla | Minstrel Trainer | [19.5N, 72.0W] |
| Ciryalen | Rune-keeper Trainer | [18.9N, 71.5W] |
| Ulkõ | Warden Trainer | [18.8N, 71.4W] |
Others
| NPC | Function | Coords |
| --- | --- | --- |
| Kaleva | Task-master - Quest | [19.2N, 70.9W] |
| Glorielhen | Explorer of Eregion - Quest | [19.3N, 71.8W] |
| Emeli | Quest | [19.0N, 70.8W] |
| Ilmo | Quest | [19.4N, 70.2W] |
| Jalmari | Quest | [19.4N, 71.5W] |
| Lassi | Quest | [19.5N, 72.0W] |
| Lothrandir | Quest | [19.0N, 70.8W] |
| Matti | Quest | [19.5N, 71.3W] |
| Nôra | Quest | [19.5N, 71.4W] |
| Pasi | Quest | [19.0N, 70.8W] |
| Sini | Quest | [19.1N, 70.3W] |
| Guard | Free Peoples | |
| Lossoth | | |
| | | |
Lore
It says something about the Lossoth that they've built their greatest settlement, Sûri-kylä, as far from the rest of Middle-earth as they could reach, backed up against impassable mountains on the shore of a deadly sea. The Lossoth live far apart from southern Men in not only distance but custom. They skate across the ice on bone-bladed shoes and go about on carts without wheels. They wear bone and ivory jewellery, weave hardy and luxurious fabrics, and craft powerful weapons—yet they build no castles or cities of stone. They dwell in houses of shaped ice held up by rare and precious timbers or enormous cut tusks. — Hero's guide