Minas Vrûn
Jump to navigation
Jump to search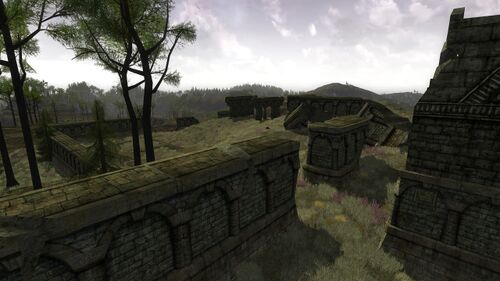 Location
Minas Vrûn is a landmark within Greenway in The North Downs. [11.4S, 51.2W]
East of Amon Raith and its stable the old ruins of Minas Wrûn lie bare, just by the Kingsfell road. This was once a large and strong city named Henneth Rhún, built with heavy stone walls. Yet today stands here one of the Founding Stones of Arthedain's Five Towns. Today only foul creatures defiles the crumbled stones.
Deeds
The following deeds can be obtained by visiting this location:
Quests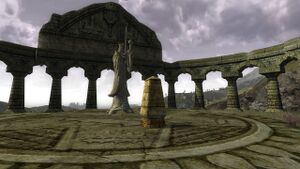 Involving:
Mobs
Lore
Following the fall of Ost Lagoros, the Witch King's forces made a steady push towards Fornost, however they could not pass onto the Fields while the city of Minas Vrun still stood. Being on a fairly large hill, several attacks failed and Arvedui believed Angmar could be held there. Unfortunately for the King, one of the reinforcement companies he sent happened to be made up of what would become Oathbreakers. They never went to Minas Vrûn, and instead rendezvoused with the Witch King. Knowing the foundations of the city, the gates were eventually thrown open from the inside. The Lord of Minas Vrûn made one final stand in his own hall and slew many Angmarim before being overwhelmed by Amarthiel herself.
Citation Needed
This article or section requires citation.
Please refer to Help:Citation for additional information.
Gallery