Boffin Manor
Jump to navigation
Jump to search
Boffin Manor lies to the north of the Town Hole of Michel Delving in the Shire. [33.0S, 75.1W]
It is the home of Bingo Boffin, a well-situated resident of the town who lives by himself in the large smial he inherited from his parents.
If you go inside Boffin Manor, you should be able to find Bingo's Notes, which allow you to relive any of the instances he encountered, including 'The Perfect Recipe' in Week 52.
NPCs
Quests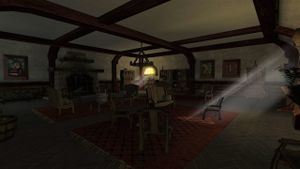 Starting
Involving
Services
Bingo's Notes - A 'Ballad of Bingo Boffins' Reflecting Pool, which allows players to replay all instances that are part of the Episodic Content quest chain.
Gallery