Talath Úrui
Jump to navigation
Jump to search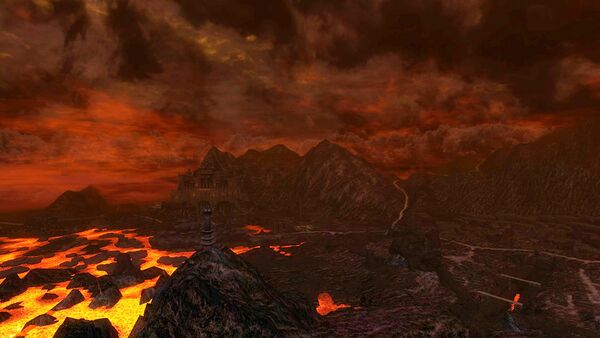 Location
Talath Úrui, (Sindarin for Burning Plain, literally Hot Plain), is an area within the Plateau of Gorgoroth.
Located south of Orodruin, this fiery, fume-choked land is home to key fortresses, prisons, and military establishments.
Settlements
The following settlements are found within this area:
Landmarks
These landmarks are located within Talath Úrui:
NPCs
See "list of NPCs" within Talath Úrui

Quests
Parts of The Black Book of Mordor: Where the Shadows Lie (Requires purchase of the Mordor Expansion.)
The Allegiance System has a number of quests as well for each area, once you hit level [110]:
Creatures
The following creatures are found within this area:
Level 112-113 Creatures
Ancient Evil
The Dead
Dragon-kind
Drakes
Salamanders
Worms
Orc-kind
Orcs
Uruks
Spiders and Insects
Troll-kind
Critters
Level 115 Creatures
Ancient Evil
Orc-kind
Orcs
Uruks
Troll-kind
Maps
Lore
Despite receiving most of the damage from Mount Doom's explosion, the southern half of Gorgoroth has only widened in dangers as it now features the Ghâshghurm, the lake of fire, that pours out from the broken cone of Orodruin. Strongholds and ruined keeps from Gondor's time line the hills of the Morgai and the barrier to Nurn, the Maegond Spur, while various additional staging posts scatter along the main roads. Many Orcs still patrol the keeps to which they were assigned, with even greater enemies indulging in the flaming wastes.
Talath Úrui is home to Borangos the Horror and his Ghâsh-hai, and is under his control.