Mordath
Jump to navigation
Jump to search
This page is about the landmark in Dor Amarth. For the Raid Instance, see the Abyss of Mordath.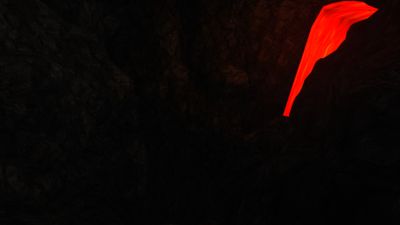 Location
The Mordath (Sindarin for Black-abyss/hole/pit) is a landmark within Dor Amarth on the Plateau of Gorgoroth. [44.7S, 25.7E]
Here the ground opens up onto a great abyss beneath Barad-dûr. This chasm can also be accessed through the Dungeons of Barad-dûr, however one cannot simply jump down without suffering incapacitation. Instead, the Dungeons and the Abyss of Mordath within must normally be entered through the main gate.
Raid
Deeds
The following deeds can be advanced by visiting this location:
Quests
Involving:
NPCs
Lore
The Abyss of Mordath lies beneath Barad-dûr. When the tower collapsed, so too was the earth beneath it sundered.[1] This pit north of the main gate of Barad-dûr opens upon the now exposed Abyss. Gimli was able to secure a rope to climb down to a rocky landing providing access to the Dungeons of Barad-dûr. [2]