Udûn
Jump to navigation
Jump to search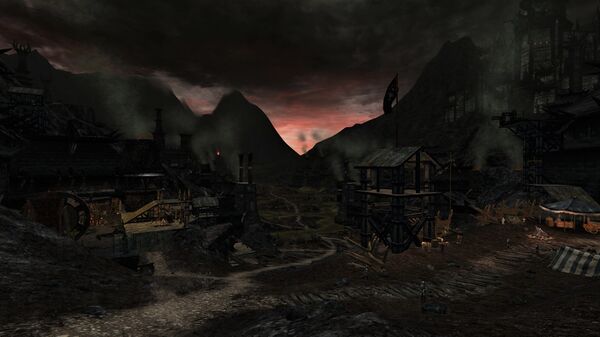 Location
Udûn (Sindarin for Hell or Underworld, literally Deep-hidden) is an area within the Plateau of Gorgoroth.
Udûn connects Gorgoroth to the lands beyond and is thus sometimes called "Mordor's antechamber". This polluted valley holds the great forges, quarries, and parade grounds that readied Sauron's armies for war.
It lies between Cirith Gorgor and the Morannon in the north-west and the Isenmouthe in the south-east. The castle of Durthang overlooks Udûn from the mountain spur in the south-west, while across the valley the great foundry of Anglach stands on the inner face of the Ered Lithui.
Udûn Locations
Locations found within the area of Udûn are listed below.
Settlements
The following settlements are found within this area:
Landmarks
These landmarks are located within Udûn:
Connected Locations
NPCs
See "list of NPCs" within Udûn

Quests
The Black Book of Mordor: Where the Shadows Lie (Requires purchase of the Mordor Expansion.)
The Allegiance System has a number of quests as well for each area, once you hit level [110]:
Creatures
Most creatures in Udûn are of levels 106-108, however there are a few areas inhabited by level 115 creatures. These areas are mostly penetrated during Allegiance quests. Similarly the Fortresses have level 115 Mobs when they are entered for Resource quests, and the lower level when entered normally.
The following creatures are found within this area:
Level 106-108 Creatures
Level 115 Creatures
Ancient Evil
Orc-kind
Goblins
Orcs
Uruks
Men
Numenoreans
Maps
Lore
Notes
↑ According to Evils of Udûn by Narthavron, it was sixteen centuries. This would match with the time of the Great Plague. However, Annoth mentions Eärnil was King of Gondor at the time of Durthand's loss. Eärnil I ruled in the 10th century of the Third Age, before Gondor waned. Therefore, Annoth likely meant Eärnil II, who ruled in the 20th and 21s centuries and was the father of Eärnur the last king before Elessar. If this is correct, Durthand must have been held for centuries after the Great Plague and been taken around the same time as Minas Ithil.
References