The Marish
Jump to navigation
Jump to search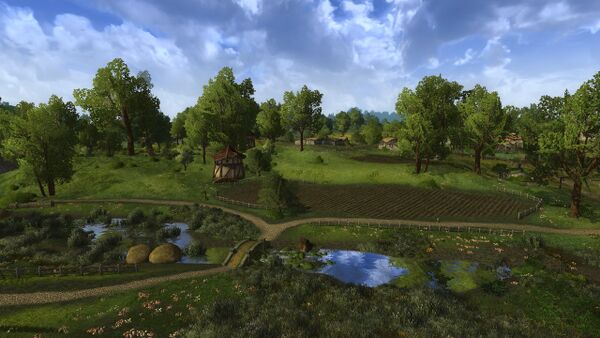 The Marish is an area within the Shire in the south-easter region.
This area borders to Green Hill Country to the west, The Water to the north, and Brandywine to the east; the south is fenced off by steep ridges. The Great East Road and the Stock Road run through and merge at Stock with the much famous Golden Perch Inn and its beer, the travellers' hub long since.
The Marish is a fertile region in the Eastfarthing of the Shire. Although the farmlands south of The Water and on the western banks of the river Brandywine was rich, it was also boggy and damp. The more so as smaller rivers from west also contributed, such as Shirebourn.
To avoid the Stock Road and its traffic Frodo, Sam, Merry and Pippin passed through the marshes in an attempt to evade the pursuing Black Riders on their way to the Bucklebury Ferry. Eventually they reached the Old Maggot's Farm.
It should be noted that while Woody End refers to a region of the western Marish and of the eastern Green Hill Country it does not comprise all of the Marish.
Settlements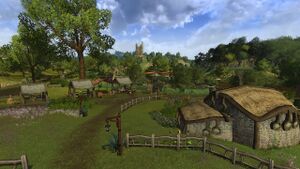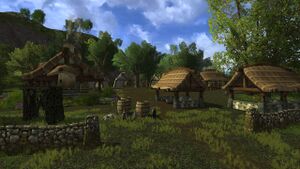 The following settlements are found within this area:
Landmarks
These landmarks are located within the Marish:
Interiors
NPCs
See list of all NPCs within The Marish
Quests
See "starting quests" and the landmarks for more quests

Starting
Mobs
The following creatures are found within this area:
Maps
Lore
"The habit of building farmhouses and barns was said to have begun among the inhabitants of the Marish down by the Brandywine. The Hobbits of that quarter, the Eastfarthing, were rather large and heavy-legged, and they wore dwarf-boots in muddy weather."
"'Short cuts make long delays,' argued Pippin. 'The country is rough round here, and there are bogs and all kinds of difficulties down in the Marish - I know the land in these parts." — The Fellowship of the Ring, by Tolkien
Gallery