The Haunted Inn
Jump to navigation
Jump to search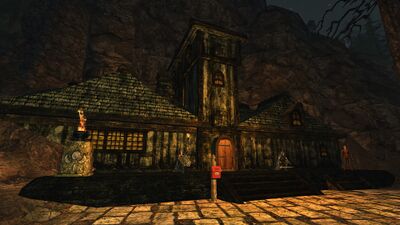 The Haunted Inn is an interior location where the Malledhrim have chosen to prepare for their attack on Dol Guldur. The inn also includes access to The Bleak Cellar: an area accessed during the Epic Quests. There is a small area around the Inn with the same name.
Location
The Haunted Inn can be found in the Dourstocks in Mirkwood [13.3S, 56.1W]
Services
Quest Involvement
Related quests that involve this area:
Related quests that start or are found in this area include:
Book Quests
The Ballad of Bingo Boffin
Stable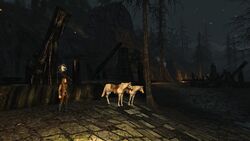 Andambeth is the Stable-master for The Haunted Inn, offering travellers the chance to purchase a horse or pony ride to the neighboring stables of Echad Sirion, Ost Galadh, Estolad Mernael, Thangúlhad, and Helethir.
NPCs
Vendors
Townsfolk
Anonymous NPCs
Galadhrim
Galadhrim Warden
Malledhrim Sentinel
Nervous Malladhrim