Agarnaith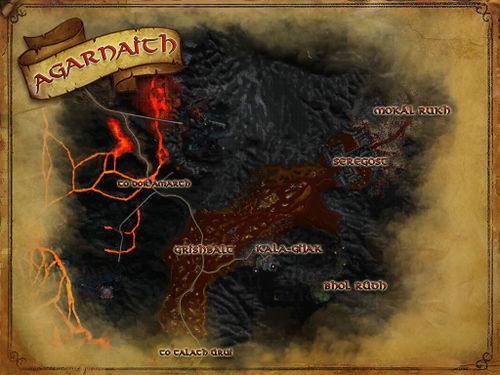 Location
A valley southeast of Barad-dûr with a dense, pestilent, and bloody swampland, Agarnaith is an area within The Plateau of Gorgoroth in Mordor.
Once known as the broken vale, until pestilence crept in. Disease and death worked its way into every living thing until the very heart of the swamp ran red with blood. Agarnaith, now the Bloody Gore, the festering grounds and free-range laboratory of Lhaereth, the Lady of Blight. This region of Mordor is home to unique animals and wildlife not like anything men of the west would ever have been witness to. One thing is for certain, do NOT stop to smell the flowers here as it might be the very last thing you ever do.
Settlements
The following settlements are found within this area:
Landmarks
These landmarks are located within Agarnaith:
NPCs
Quests
Deeds
See Gorgoroth Deeds - Agarnaith for an overview of all deeds that complete in Agarnaith.
Creatures
The following creatures are found within this area:
Maps