Pelargir
Jump to navigation
Jump to search
This page is about Pelargir in Central Gondor. For Pelargir in King's Gondor, see Pelargir (King's Gondor). For the faction, see Pelargir (Faction).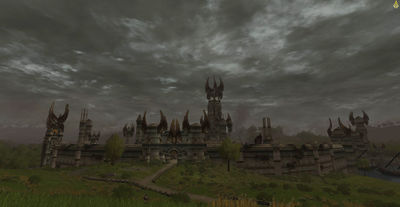 Pelargir is a settlement and port city under siege, located within the area of Lower Lebennin in Central Gondor[83.6S, 34.0W] and hosts the reputation Pelargir (Faction).
It is the main city of the fiefdom of Lebennin and the seat of its Lord, Sirgon. In a vicious attack by the Black Fleet of the Corsairs of Umbar, the city was taken by surprise, but has since been reconquered.
Some inhabitants have returned to Pelargir, but many still seek refuge in the nearby fortresses of Ost Anglebed and Tumladen.
You enter Pelargir from the northwest and pass into the upper area known as West-garth. Multiple staircases lead down to the river level.
Note that the area is also referred to as West Pelargir on some maps and stable-master destinations.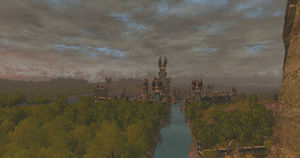 Pelargir is broken into Districts:
Lore
The Haven of Pelargir (Garth of Royal Ships) is by far the oldest permanent settlement in Gondor. Like its sister city, Umbar, it was founded by men of Westernesse in the mists of Second Age. Together they have a long and irreconcilable history of contest, and occasionally, war. Umbar is older, more venerable and strategically situated in the nexus of southern trade lines; a former bastion of King's Men (Ad. Arûwânai). Pelargir is her stronger and more populous little sister, mother colony of the Faithful (Elendili, ad. Nimruzîri). Even when both havens have been ruled by a common dynasty (933-1448), their life has been one of fierce competition and civic pride.
The history of southern Gondor begins and ends with Pelargir. Not only is Pelargir the greatest haven of the South-kingdom; it also enjoys the distinction of having been the first among all the dwellings of the Dúnedain to have received the authority under Númenórean law to conduct its affairs according to the precepts and ideals of the Faithful. Finally, apart from the temporal power of its leaders, the walls of Pelargir enshrine one of the hallowed places of Gondor: the fabled Well of Ulmo, Lord of the Deeps.
Services
The following services can be found within the Market Ward of Pelargir:
Mailboxes
Crafting
Travelling
Reputation
Deeds
The following deeds can be advanced by visiting this place:
Quests
NPCs
Creatures
The following creatures are found within this area:
Maps