Tom Cotton's Farm
Jump to navigation
Jump to search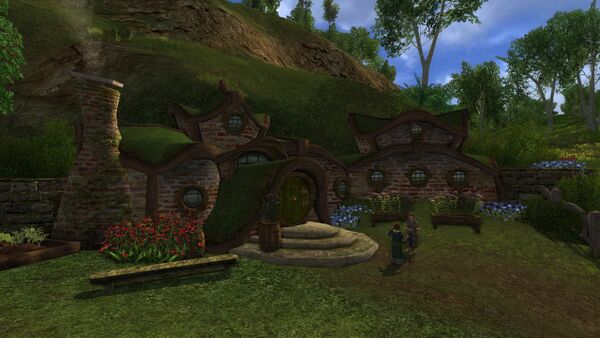 Tom Cotton's Farm is a point of interest within Hobbiton-Bywater, in the Shire. [32.4S, 69.3W]
The farm of the respected hobbit Tom Cotton and his family lies at South Lane, between Bywater and Longo Burrow's Farm.
Quests
Involving:
NPCs
Lore
During the War of the Ring, Tom Cotton opposed the Chief's Men, but was unable to convince enough hobbits to rally against them.
In early November 3019 III, after returning to the Shire with Frodo, Merry and Pippin, Sam Gamgee went to Tom Cotton's Farm to seek help from Tom Cotton in rallying against the Chief's Men who had taken over the Green Dragon and the Shire. Tom took his sons Jolly, Nick, and Tom to Bywater, and provided valuable information about the Chief's Men. Tom Cotton stood alone in the street confronting a squad of 20 Men, while the other Hobbits quietly surrounded them. The Hobbits killed the leader of the Men prompting the rest to surrender. The next day, Tom Cotton and his sons fought in the Battle of Bywater which defeated the Chief's Men and drove them out of the Shire permanently. Frodo was escorted by Tom Cotton and two dozen Hobbits to Bag End to confront the Chief.
"While Bag End and Bagshot Row were being repaired, Frodo Baggins and Samwise Gamgee stayed with Tom Cotton at Tom Cotton's Farm." — The Return of the King, by Tolkien
Gallery
External References