The Dolven-view
Jump to navigation
Jump to search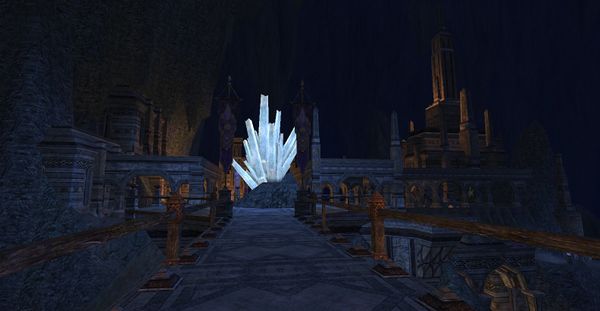 Location
The Dolven-view is a settlement located within the Great Delving of Moria. [8.5S, 112.2W]
Click here for step by step directions for travelling to and from the Dolven-View.
Services
Mailboxes
Travelling
Tasks Bulletin Board
Deeds
The following deeds can be obtained by visiting this place:
Quests
Starting
Involving
NPCs
Services & Supplies
Others
Lore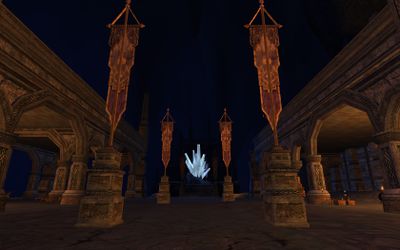 The Dolven-view acts as a window to the Great Delving below. From here, dwarves could once be seen bustling to and fro, visiting the markets, libraries, and workshops of this once-lively cavern. Now there is only a long, lonely view of goblin-fires and vile insects crawling through the dark.
At the southern end of the Great Delving's long central passageway, a hulking, hollow geode dominates this abandoned, stately plaza. Atop this silent mansion glow the fires of a new refuge.
At the top of many dizzying stairways, in the highest halls of the Great Delving, lies one of the Free Peoples' great footholds in Moria. Among the bold columns and warm lamps of this rooftop refuge, the expedition to reclaim Khazad-dûm has created a retreat from the Goblin-prowled plazas all around. This may well prove to be the central base for questing heroes in western Moria.
This outpost offers a grand view out across all the Great Delving, from which the new defenders of Khazad-dûm can take in the heartening vision of magnificent gates and maintain watch over the disheartening sight of ugly, smoky Goblin camps. From here, it's easy to see the heart of the Great Delving for what it is: a single, enormous cavern cut into plazas and palaces, all perched above a winding chasm of impossible depth, all gathered beneath a sky of looming stalactites. This is Khazad-dûm: beautiful and precarious.
A long bridge capped with a coronal half-star of crystalline rods leads from the Dolven-view refuge to a corner of the Great Delving where obelisk-topped Dwarf-manses stand mysteriously untouched by the Orc-kind below. The greatest of these houses a masterpiece of Dwarf engineering known as the Cooling Chamber: the hall of a roaring, indoor maelstrom. Look nearby for the passageway that runs along the edge of the Great Delving's cavern wall and emerge at the gateway to Zelem-melek to the east. [1]
Gallery