Tûm Fuin
Jump to navigation
Jump to search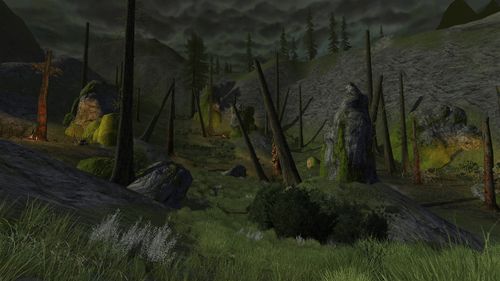 Location
Tûm Fuin is a landmark within Tyrn Fornech in Evendim. [4.4S, 65.2W]
This valley is located below the northern mountain ridge of Evendim, sheltered behind hills and boulders. Recently goblins have found their way here and have set up a large camp causing devastation to the local foliage. Wargs are prowling for stray adventurers while cowardly boggarts run around feeling powerful in numbers.
Deeds
The following deeds can be obtained by visiting this location:
Quests
Involving:
Mobs
The following creatures are found within this area:
Lore
The valley of Tûm Fuin and its surroundings are known to be a favorite haunt of local trappers and hunters out of Ost Forod. It lies well off the beaten path and has an abundance of local wildlife - but there is also little recourse or chance of rescue for any hunter unfortunate enough to be injured while travelling so far afield.
Gallery