Stocktower
Jump to navigation
Jump to search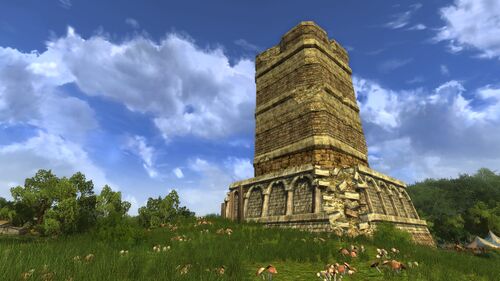 Location
Stocktower is a point of interest within The Marish in The Shire. [33.0S, 63.6W]
Just south of Stock an watchtower is standing guard over the Brandywine river. Signs and carvings indicate that it was erected during the Arthedain reign, well before the Shire was founded in III 1601.
Deeds
The following deeds can be obtained by visiting this location:
Quests
Involving:
Lore
The Stocktower is a curious old Arnorian ruin standing guard near the Brandywine Bridge.
Few such ruins still stand in the Shire - having long ago been dismantled by industrious Hobbits to construct more modern residences, but the Stocktower has become something of an icon and mischievous Hobbit children have been known to frequent the ruin despite their parents' admonishments to the contrary. — Deed text
Gallery