North Trollshaws
Jump to navigation
Jump to search


The North Trollshaws is an area within The Trollshaws, in the north-western part of the region.
This area is characterized by its many canyons and ridges punctuated by crumbling Arnorien ruins and thick pine trees. A wide array of vile creatures make their home here, from vicious spiders to corrupted wood-trolls to brutish stone-trolls. The high number and strength of these creatures suggest that adventurers should bring a fellowship or exercise extreme caution while travelling to these hills and ravines. There are a few passagesinto this area, the western from South Trollshaws, just east of Ost Dúrgonn, and a few from Nan Tornaeth.
To the south-east, nestled deep within the hills and valleys, is the Stone-trolls' Glade, where still today the trolls that Gandalf tricked into stone statues stand just as they did when Bilbo Baggins and his dwarven friends left them behind. More to the north a lone elf, Thoroniel, keeps a worried eye over the aggravated wild-life.
Landmarks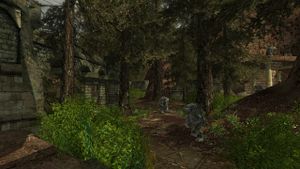 These landmarks are located within North Trollshaws:
Public Dungeons
NPCs

Thoroniel
Sells
Item
Cost
 

Ancient Steel Blade Mould

7 20 
 

Ancient Steel Bolts

7 20 
 

Ancient Steel Cutlery Mould

7 20 
 

Ancient Steel File

7 20 
 

Ancient Steel Nails

7 20 
 

Ancient Steel Sphere Mould

7 20 
 

Ancient Steel Spike Mould

7 20 
 

Anórien Crop Seed

3 60 
 

Apprentice Crop Seed

20 
 

Apprentice Flower Seed

20 
 

Apprentice Pipe-weed Seed

20 
 

Artisan Crop Seed

20 
 

Artisan Flower Seed

20 
"B"
 

Bag of Salt

1 12 
 

Baking Seed

6 
 

Ball of Twine

92 
 

Barrel of Anórien Water

40 
 

Barrel of Eastemnet Water

32 
 

Barrel of Ironfold Water

48 
 

Barrel of Ithilien Water

44 
 

Barrel of Refined Water

48 
 

Barrel of Water

28 
 

Barrel of Westemnet Water

36 
 

Blackened Steel Blade Mould

8 80 
 

Blackened Steel Bolts

8 80 
 

Blackened Steel Cutlery Mould

8 80 
 

Blackened Steel File

8 80 
 

Blackened Steel Nails

8 80 
 

Blackened Steel Sphere Mould

8 80 
 

Blackened Steel Spike Mould

8 80 
 

Bolt of Cotton Cloth

4 
 

Bolt of Elven-cloth

7 20 
 

Bolt of Linen Cloth

2 40 
 

Bolt of Magnificent Cloth

8 80 
 

Bolt of Rough Cloth

1 60 
 

Bolt of Silk Cloth

5 60 
 

Bottle of Savoury Seasonings

3 12 
 

Bottle of Vinegar

4 20 
 

Bottle of Water

24 
 

Bronze Blade Mould

1 60 
 

Bronze Cutlery Mould

1 60 
 

Bucket of Purified Water

24 
 

Bucket of Water

4 
 

Bundle of Athelas Leaves

2 40 
 

Bundle of Greater Athelas Leaves

4 
 

Bundle of Lesser Athelas Leaves

1 60 
 

Bundle of Potent Athelas Leaves

8 80 
 

Bundle of Pure Athelas Leaves

7 20 
 

Bundle of Refined Athelas Leaves

5 60 
"C"
 

Chicken Egg

24 
 

Clay Pot

4 40 
 

Cloth-bound Journal

4 
 

Coney

56 
 

Cooking Supplies

2 
 

Cup of Apple Juice

7 20 
 

Cup of Fresh Cream

3 12 
 

Cut of Beef

1 12 
 

Cut of Mutton

6 
"D"
 

Drop of Fine Clover Honey

3 12 
 

Drop of Honey

1 12 
 

Drop of Wildflower Honey

8 40 
 

Dwarf-steel Blade Mould

5 60 
 

Dwarf-steel Bolts

5 60 
 

Dwarf-steel Cutlery Mould

5 60 
 

Dwarf-steel File

5 60 
 

Dwarf-steel Nails

5 60 
 

Dwarf-steel Sphere Mould

5 60 }
 

Dwarf-steel Spike Mould

5 60 
 

Dye Wash

20 
"E"
 

Eastemnet Crop Seed

2 80 
 

Empty Glass Bottle

5 60 
 

Exceptional Glass Lens

8 80 
 

Exceptional Leather Wrapping

7 20 
 

Expert Crop Seed

20 
 

Expert Flower Seed

20 
 

Expert Pipe-weed Seed

20 
 

Extraordinary Leather Wrapping

8 80 
"F"
 

Farming Tools

2 
 

Fine Glass Lens

2 40 
 

Fine Leather Wrapping

2 40 
 

Flank of Beef

3 12 
 

Forester's Axe

2 
 

Frog Legs

60 
"G"
 

Glass Phial

4 
 

Gut Strings

2 40 
"H"
 

Hand-bound Journal

2 40 
 

Handful of Ereborian Fertilizer

24 
 

Handful of Fertilizer

4 
 

Handful of Mixed Nuts

7 20 
 

Haunch of Venison

8 40 
 

Hearty Crop Seed

4 40 
 

Hearty Eastemnet Crop Seed

14 
 

Hearty Westemnet Crop Seed

16 
 

Hearty Westfold Crop Seed

12 
 

High-grade Steel Blade Mould

4 
 

High-grade Steel Bolts

4 
 

High-grade Steel Cutlery Mould

4 
 

High-grade Steel File

4 
 

High-grade Steel Nails

4 
 

High-grade Steel Sphere Mould

4 
 

High-grade Steel Spike Mould

4 
"I"
 

Ironfold Crop Seed

4 40 
 

Ithilien Crop Seed

4 
"J"
 

Jar of Vegetable Oil

56 
 

Jeweller's Tools

2 
 

Journeyman Crop Seed

20 
 

Journeyman Flower Seed

20 
 

Journeyman Pipe-weed Seed

20 
"K"
 

Khazâd-tin Ingot

2 40 
 

Kindling Material

1 60 
"L"
 

Lamb Bone

1 12 
 

Lamb Kidney

1 12 
 

Large Bottle of Milk

2 12 
 

Large Clay Pot

7 20 
 

Large Glass Phial

7 20 
 

Leather-bound Journal

5 60 
 

Long Ash Shaft

2 40 
 

Long Black Ash Shaft

7 20 
 

Long Lebethron Shaft

5 60 
 

Long Mallorn Shaft

8 80 
 

Long Rowan Shaft

1 60 
 

Long Yew Shaft

4 
 

Low-grade Steel Blade Mould

2 40 
 

Low-grade Steel Bolts

2 40 
 

Low-grade Steel Cutlery Mould

2 40 
 

Low-grade Steel File

2 40 
 

Low-grade Steel Nails

2 40 
 

Low-grade Steel Sphere Mould

2 40 
 

Low-grade Steel Spike Mould

2 40 
 

Lump of Butter

24 
 

Lump of Coal

2 40 
 

Lump of Rich Coal

8 80 
 

Lump of Rich Wax

8 80 
 

Lump of Riddermark Coal

12 80 
 

Lump of Riddermark Wax

12 80 
 

Lump of Wax

24 
"M"
 

Master Crop Seed

20 
 

Master Flower Seed

20 
"O"
 

Oxtail

6 
"P"
 

Partridge Breast Fillet

8 40 
 

Phial of Celebrant Water

2 40 
 

Phial of Greater Celebrant Water

4 
 

Phial of Lesser Celebrant Water

1 60 
 

Phial of Potent Celebrant Water

8 80 
 

Phial of Pure Celebrant Water

7 20 
 

Phial of Refined Celebrant Water

5 60 
 

Piece of Chalk

1 60 
 

Piece of Goat Cheese

6 
 

Piece of Uncooked Bacon

56 
 

Pile of Dye Salts

1 60 
 

Pile of Lórien Soil

96 
 

Pile of Rivendell Soil

48 
 

Pinch of Ale Yeast

24 
 

Pinch of Anórien Spices

9 60 
 

Pinch of Cinnamon

2 12 
 

Pinch of Fresh Ginger

8 40 
 

Pinch of Lager Yeast

24 
 

Pinch of Mixed Herbs

4 20 
 

Pinch of Mixed Spice

4 20 
 

Pinch of Pepper

7 20 
 

Pinch of Shire Seasonings

56 
 

Polished Glass Lens

4 
 

Pork Shank

24 
 

Pouch of Fine Seasonings

2 12 
 

Pristine Glass Lens

7 20 
 

Pristine Leather Wrapping

5 60 
 

Prospector's Tools

2 
"Q"
 

Quill and Ink Set

2 40 
"R"
 

Rack of Lamb

4 20 
 

Raw Pork Sausage

56 
 

Riddermark Glass Phial

12 80 
 

Riddermark Leather-bound Journal

12 80 
 

Rough Glass Lens

1 60 
 

Rough Leather Wrapping

1 60 
 

Runic Striking Symbol

2 40 
 

Runic Vanquishing Symbol

2 40 
"S"
 

Scholar's Glass

2 
 

Scoop of Lard

24 
 

Sharp Cheese Wheel

2 12 
 

Short Ash Shaft

2 40 
 

Short Black Ash Shaft

7 20 
 

Short Lebethron Shaft

5 60 
 

Short Mallorn Shaft

8 80 
 

Short Rowan Shaft

1 60 
 

Short Yew Shaft

4 
 

Small Candle

1 60 
 

Small Clay Pot

1 76 
 

Small Glass Phial

40 
 

Smithing Hammer

2 
 

Spool of Ancient Steel Wire

7 20 
 

Spool of Blackened Steel Wire

8 80 
 

Spool of Bronze Wire

1 60 
 

Spool of Cotton Thread

4 
 

Spool of Dwarf-steel Wire

5 60 
 

Spool of Elven-thread

7 20 
 

Spool of Extraordinary Thread

8 80 
 

Spool of Fine Thread

2 40 
 

Spool of High-grade Steel Wire

4 
 

Spool of Low-grade Steel Wire

2 40 
 

Spool of Rough Thread

1 60 
 

Spool of Silk Thread

5 60 
 

Stalk of Rhubarb

3 12 
 

Sturdy Leather Wrapping

4 
 

Superb Glass Lens

6 16 
 

Supreme Crop Seed

20 
"T"
 

Tailor's Tools

2 
 

Tin Ingot

40 
"U"
 

Uncooked Chicken

2 12 
 

Uncooked Duck Breast

7 20 
 

Uncooked Pork Chop

1 12 
"W"
 

Westemnet Crop Seed

3 20 
 

Westfold Crop Seed

2 40 
 

Wild Flower Seed

12 
 

Wild Pipe-weed Seed

12 
 

Wooden Pegs

2 40 
 

Woodworking Tools

2 
Quests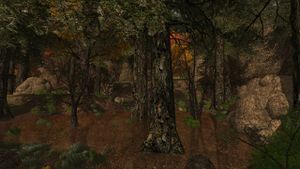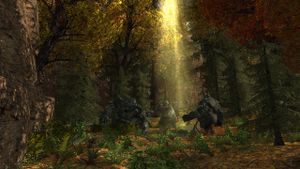 See "starting quests" as well as each location for more quest
Starting:
Repeatable:
Involving:
Mobs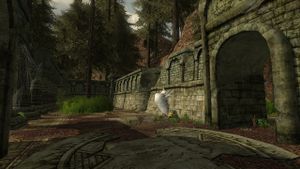 The following creatures are found within this area:
Maps
Gallery