Kings' End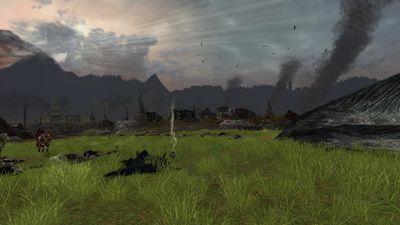 Location
Kings' End is an area of Old Anórien, representing the Battle of Pelennor Fields at early morning, just before, during, and after the deaths of the Black Serpent, the Witch-king of Angmar, and Théoden.
It is first accessed during Epic Volume IV. Book 6, Chapter 2: Death Comes for All. After this, it can be returned to by using the horse labelled To Kings' End at the Field of Onslaught.[27.2N, 16.6W] A corresponding horse labelled To the Field of Onslaught provides instant transportation back to the beginning of the battle.[22.4N, 14.2W] Completing Book 6, Chapter 4: The Foe Resurgent unlocks the next phase of the battle, Riders' Stand. A horse To Riders' Stand will appear next to the first horse.[22.3N, 14.2W]
The groups of fighters cannot be interacted with, but many Orcs and Wargs have broken free of the ranks and can be fought.
NPCs
See list of all NPCs within Kings' End

Rohirrim:
Gondorians:
Host of Mordor:
Quests
Starting:
Involving:
Creatures
The following creatures are found within this area:
Landscape:
Instance: Honour and Treachery
Mordor Raider
Morgul Archer
Morgul Warg
Morgul Warrior
For enemies in Blood of the Black Serpent, see Category:Blood of the Black Serpent Mobs

Maps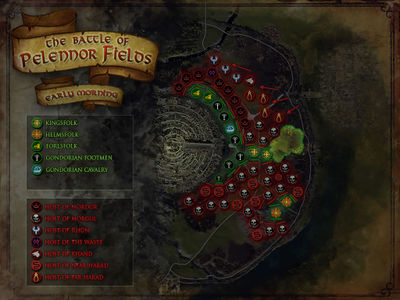 Lore
Notes
↑ In the book, the Witch-king's death comes after Denethor's death. However, the Wrath and Ruin questline reverses this, placing the events of the Silent Street instance after the death of the kings.
References
↑ a b J.R.R. Tolkien, The Lord of the Rings, The Return of the King, "The Battle of the Pelennor Fields"
↑ J.R.R. Tolkien, The Lord of the Rings, The Return of the King, "The Pyre of Denethor"