Gilminuial
Jump to navigation
Jump to search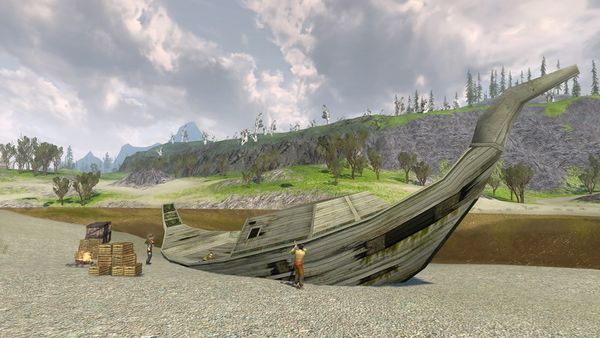 Gilminuial is a shipwreck within Barandalf, in Evendim. [14.6S, 61.7W]
The Gilminuial used to sail up and down river Baranduin, providing supplies to the Wardens of Annúminas in the North. But once upon a time a great storm fell upon the ship and threw crew and cargo overboard. The ship blew further north, together with Captain Aranhir, before it was stranded on the western shore of the river.
The cargo was scattered along the shores and the lost crew-members, Argirion and Mindambeth, were found at the shoreline within northern Buckland where they were eager to hear from their captain and were willing to barter stored items for cargo.
The Tale of the Shipwrecked Mariners event occurs yearly, on September 19, which is the "International Talk Like a Pirate Day".
Quests
Involving:
NPCs
Aranhir - Captain