Camp of the Host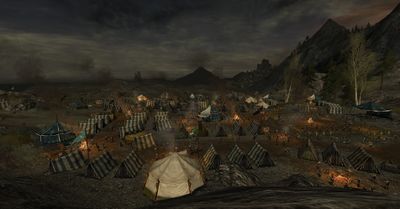 Description
The Camp of the Host is a settlement located within the area of North Ithilien. [40.9S, 10.4W]
Here, Aragorn's army has set up camp at the border of Dagorlad before marching to the Black Gate.
Note: With Update 20.0.1, SSG "moved" the Camp of the Host from North Ithilien to The Wastes. This is primarilay a shift in servers, but it means that now the Camp of the Host does appear on both maps, in North Ithilien: [40.9S, 10.4W] and the Wastes: [40.9S, 10.4W].
Services
The following services can be found within the settlement of the Camp of the Host
Mailboxes
Tasks Bulletin Board
Travelling
Deeds
The following deeds can be advanced by visiting this place: The following deeds are located under the March of the King tab of the Gondor page of the Deed Log.
March of the King Deeds
Quests
[105] The Faint-hearted - Vector to Cair Andros
Mílgamel Quests
[105] Land of Strife - Camp of the Host - ends at Haerondir
Herbalism Quests
[105] Wrapper Assisting the Herbalists: North Ithilien - Automatic Quest Bestowal (Repeatable - daily)
[105] Noisome and Unrelenting - Mithrandir (Repeatable)
[105] Moving Moss - Arodor (Repeatable)
[105] An Eerie Gathering - Arodor (Repeatable)

Involving:
NPCs
NOTE: The descriptions of these NPCs all need to be verified and updated to include reference to this location.
Gallery