Lossarnach (King's Gondor)
Jump to navigation
Jump to search
This page is about Lossarnach after the Midsummer wedding. For Lossarnach before the Battle of Pelennor Fields, see Lossarnach.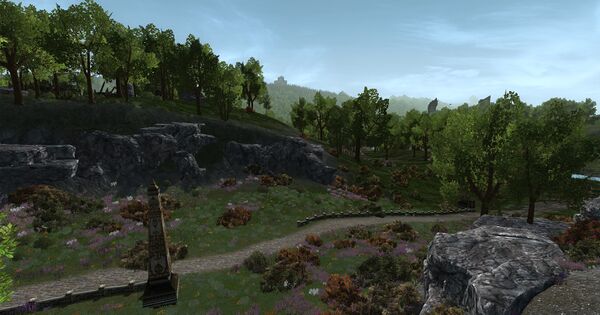 Description
Lossarnach is an area within King's Gondor.

Settlements
Landmarks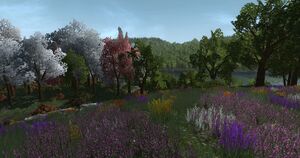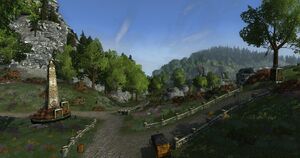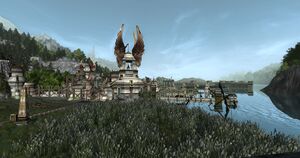 These landmarks are located within Lossarnach:
Connected to
Quests
The Song of Waves and Wind
Deeds
NPCs
Creatures
Lore
Among the fiefs of Gondor, Lossarnach is widely considered the most beautiful. A land whose people are proud of ancient traditions, it is ablaze with flowers and blossoming trees. Lord Forlong the ruler of Lossarnach, kept a hall in the village of Arnach until he rode to Minas Tirith during the War of the Ring. He perished in the fighting on the Pelennor and now his hall stands empty, the people of Arnach doing the best they can to go on without their much-loved lord. The Harlond was held by Orcs of Mordor in the days before the Battle of Pelennor Fields, and the creatures burned as many of the Gondorian ships as they could. When Corsair ships flying black sails came up the river from the south, the Orcs were taken by surprise when the banner of the King was raised, revealing the vessels to be commanded by Aragorn and the allies of Gondor. Their arrival on the field of battle proved instrumental in the defence of Minas Tirith and the defeat of Sauron's forces. Imloth Melui provides many of the healers who work at the Houses of Healing in Minas Tirith, including the woman Ioreth, who knows a little about an impressive array of things, and an impressive amount about very little.
Maps