Lamedon
Jump to navigation
Jump to search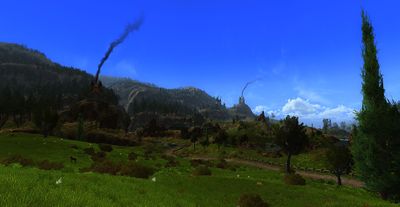 Description
Lamedon is an area within Western Gondor. It is home of two of the Warning Beacons of Southern Gondor.
This fief of Gondor consists of a series of valleys through which the Ringló and Ciril rivers flows south towards the Bay of Belfalas. Lamedon is one of the most densely populated regions in Western Gondor. At the time of the War of the Ring its Lord was Angbor, who lead a host of soldiers to Minas Tirith to aid in the defence of the White City.
Lamedon is home to many grazing Aurochs and goats. Farmers tend to their crops near the villages around the large city of Calembel, but the recent Corsair invasion as well as an uprising of Bandits greatly threaten the peace in the absence of most of the warriors. The Men of Lamedon are known for their reckless fighting style and unwavering strength of will in battle.
Aragorn, the Grey Company and the Army of the Dead marched through this area, camped at Calembel before moving on to attack the Corsairs' base at Pelargir in the east.
Settlements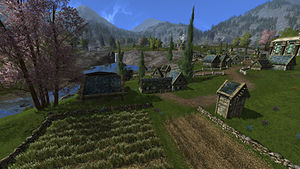 The following settlements are found within this area:
Landmarks
These landmarks are located within Lamedon:
NPCs
Quests
Creatures
Maps