The Mountain's Throat
Jump to navigation
Jump to search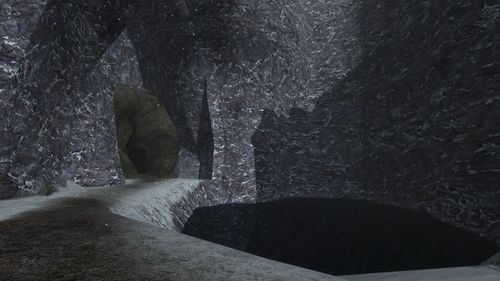 Location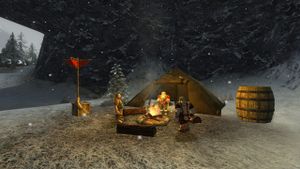 The Mountain's Throat is a landmark within the Northern High Pass in the Misty Mountains. [21.0S, 6.1E]
The Main Gate of Goblin-town is located next to a small pond of water, under the northern-most faces of the mountains, north-east of Ghâshru and the many small goblin camps. Just south of the entrance lies Glóin and two other dwarves who have set up camp where they offer many tasks for those brave enough to enter the goblin kingdom. Curiously, no goblins stand at guard in this area, maybe naïvely trusting the giant stone gate, or maybe simply to avoid unwanted attention.
In spite of being the main gate into Goblin-town, adventurers may want to use another entrance for their missions rather than barging through the main gate. Above this location; the Black Crack at the end of a steep path winding itself up the mountain-side provides a more covert means of entry.
Travel Information
From Vindurhal, which has a Milestone, head straight east and around Ghâshru keeping the goblin camp at your left side until the path straight north is clear, and head for Glóin's camp just outside this "main gate". The same route may be used for the Black Crack, see its page for the final distance.
From Hrimbarg, which has a Stable-master, ride northwards (with just a notch westwards) towards Glóin's camp outside the main entrance and you have made it.
Travelling
Quests
Involving:
Gallery