Osgiliath (After Battle)
Jump to navigation
Jump to search

Location
Osgiliath (After Battle) is an area within the March of the King.
Gondorian troops are massing here with the Ranges of Ithilien in preparation for their march Northward, towards the gates of Mordor.
Landmarks
These landmarks are located within Osgiliath (After Battle):
Services
The following services can be found within the settlement of Osgiliath (After Battle):
Mailboxes
There are mailboxes in multiple locations
Tasks Bulletin Board
Crafting
Travelling
Osgiliath (After Battle) Stable-master destinations
Deeds
The following deeds can be advanced by visiting this place: The following deeds are located under the March of the King tab of the Gondor page of the Deed Log.
IMPORTANT: The content of this page is no longer accurate. i.e. it is OUTDATED.
Please check and update this article if appropriate, then delete this tag.
Noticed by: WAC02mc (Contribs • User Talk • Email), 01:55:20, July 2, 2019
 ⇒ The Virtue system has been updated.
March of the King Deeds
Quests
Creatures
The following creatures are found within this area:
Maps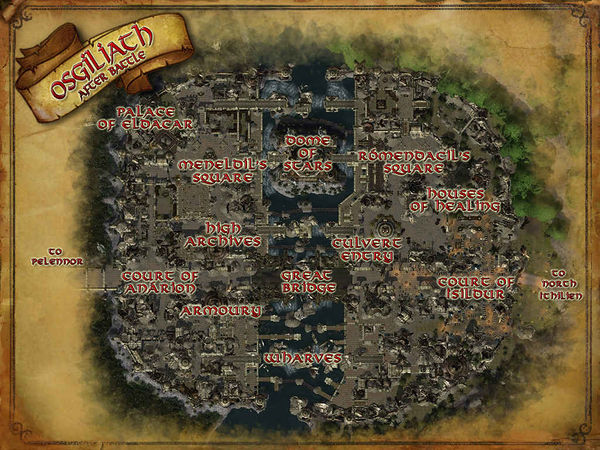 Lore
<if any>