Norbar
Jump to navigation
Jump to search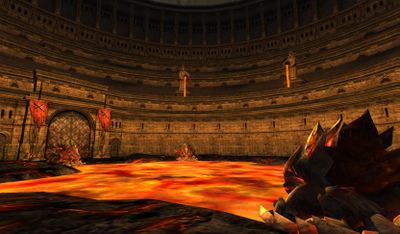 Norbar is part of the Rift of Nûrz Ghâshu.
It is a coliseum with lava in the center, and streams of lava reaching to the walls.
During the Rift of Nûrz Ghâshu Raid and the Boss from the Vaults: Thrâng Seasonal Instance, it is the site of the battle against Thrâng.
During the skirmish Rescue in Nûrz Ghâshu, it is where Golodir is rescued from Erebún. Caeryg sleep along the edge of the lava pool. These awake when the skirmish is done in a fellowship, but do not enter the fight in a solo skirmish.
Quests
Starting:
Involving:
Gallery