The Rift of Nûrz Ghâshu (Area)
Jump to navigation
Jump to search
This page is about the area. For the raid, see The Rift of Nûrz Ghâshu (Raid).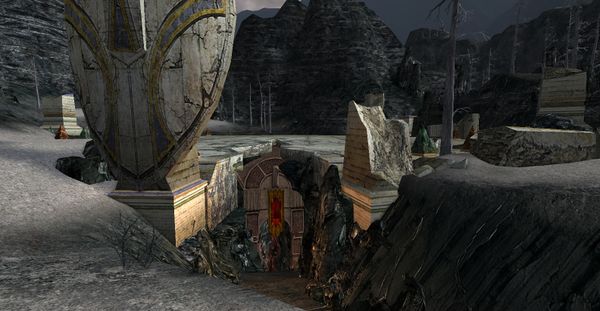 The Rift of Nûrz Ghâshu is an area within Angmar, in the uttermost northeast.
This area lies northeast of Nan Gurth and the Gate of Gath Uior. It is said that ever-vigilant guards watch the gate not to keep enemies out, but to keep something in. Rumour tells of a breed of giants who dwell therein, as well as something far greater, and far more terrifying.
High above the entrance of the well known raid, also named the Rift of Nûrz Ghâshu, the Free Peoples have set up camp. It provides great travelling options and Rangers who barter class-specific gear for loot from the raid.
NPCs
See "list of NPCs" within the area
Quests
See "starting quests" and the landmarks for quests
Creatures
The following creatures are found within the area:
Maps
Gallery