Nan Orngon
Jump to navigation
Jump to search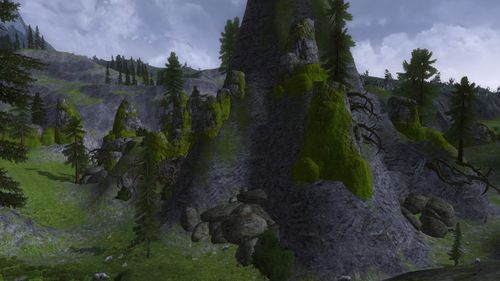 Location
Nan Orngon is a landmark within Tyrn Fornech in Evendim. [7.7S, 61.8W]
In eastern Tyrn Fornech, at the bottom of a deep depression is found a massive formation of huge boulders, mounds, and thick brambles. At its southern side a trail begins that winds itself all the way to the topmost bear den.
Here, in Nan Orngon, a very large population of wild bears have established themselves several dens. Travelers must use the utmost caution, as shown by several unfortunate tomb-robbers who met their end in the dens.
Deeds
The following deeds can be obtained by visiting this location:
Quests
Involving:
Mobs
The following creatures are found within this area:
Lore
Nan Orngon is a great stone outcropping discovered by the original settlers of Evendim long ago. While its position overlooking the paths into the Fields of Fornost might have afforded it some importance, its steep sides proved impossible to build upon even for the skilled Dwarvish masons of the time and it was eventually abandoned to the wilds.
Gallery