Frogmorton
Jump to navigation
Jump to search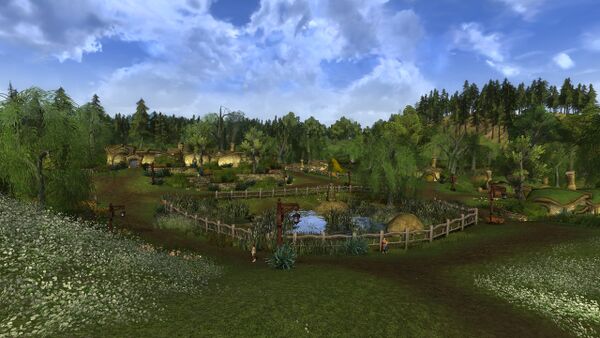 Frogmorton is a settlement located within the area of Hobbiton-Bywater, in the Shire. [31.7S, 68.0W]
This village lies in the Eastfarthing of the Shire. Frogmorton gets is name from the large density of frogs and toads of the swamps surrounding the village. Visitors enjoy the tavern, the Floating Log Inn, and its supply of ales and foods, along with other supplies of use to travellers and adventurers.
Interiors
Services
Quests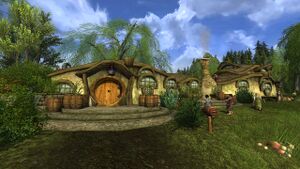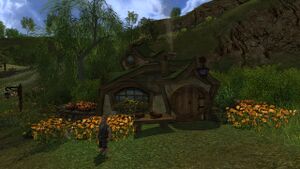 See also the Floating Log Inn for quests
Starting:
Involving:
NPCs
See also the Floating Log Inn for its NPCs
NPC
Function
Coords
Postman Oddfoot
Postman

[32.1S, 68.2W]

Milo Hornblower
Quest

[31.7S, 67.9W]

Myrtle Oddfoot
Quest

[31.7S, 68.0W]

Odo Mudbottom
Quest

[31.9S, 68.1W]

Bounder
Hungry Hobbit
Labourer
Nosey Hobbit
Townsperson
Lore
During the War of the Ring when Saruman took control of the Shire, Frogmorton became the home of the First Eastfarthing Troop of Shirriffs. The First Eastfarthing Troop arrested Frodo Baggins and his companions while they journeyed back to Hobbiton after returning to the Shire. Frodo and companions were detained in the Frogmorton Shirriff-house.
External References
Gallery