Fasach-larran
Jump to navigation
Jump to search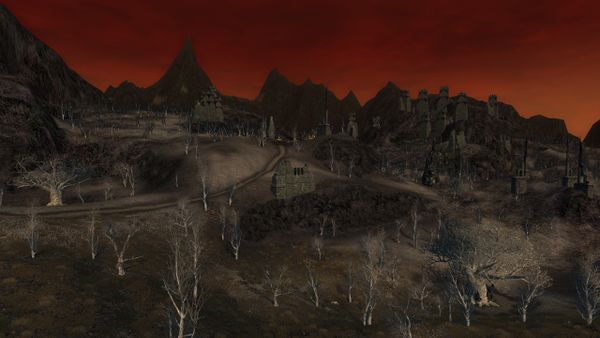 Fasach-larran is an area within Angmar, in the western region.
North of Aughaire lie these barren fields surrounded by mountain sides to the south and west. Only crawlers, hill-beasts and wargs are wandering the dreary plains and dead tree groves, though drakes have also nested down in the rocky crags of Nád Nathair. Many Yrch have set up camp in two large caves of the area though, Bûrzum Pushdug and Morfil. The traitorous Trév Duvárdain have constructed a stronghold at Tór Gailvin, hosting a small militia of Angmarim as well. If this was not enough, whispers tell of an old tomb that is host to nightmarish realm best avoided.
From Fasach-larran, one can head east along the road to reach the sulphuric swamp of Western Malenhad, or head north to Fasach-falroid that yields scenery similar to that which is found in Fasach-larran.
At the centre of Fasach-larran lies Fail-á-Khro, a camp set up by hill-men of the Trév Gállorg tribe. Hare is the only service of this area found, a Camp Site Fire, plus quest-givers. Many Skirmishes take place within this area but they are hiven at Gath Forthnír.
Locations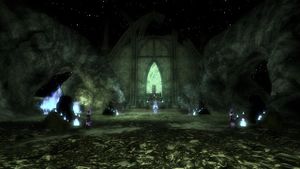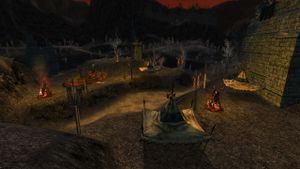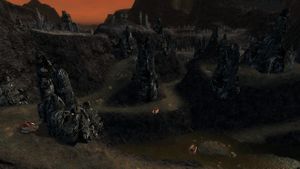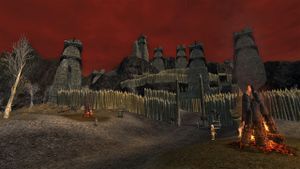 NPCs
See "list of NPCs" within the area
Quests
See "starting quests" and the landmarks for more quests
Starting:
Involving:
Creatures
The following creatures are found within the area:
Maps
Gallery