Cape of Belfalas
Jump to navigation
Jump to search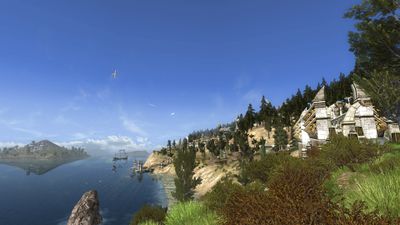 Location
The Cape of Belfalas is a Premium Housing area located within the region of Western Gondor.
Falastír is the lighthouse keeper at Narvindon [92.7S, 62.4W] on the Cape of Belfalas.
Falastír:

'The Cape of Belfalas is under rule of Dol Amroth and it has been this way since I can remember. Not that I have been to the city in many a long year. Ha, that is how it goes sometimes, I reckon!'
Neighbourhoods
As of update 21.3.3, there are 88 neighbourhoods in the Cape of Belfalas.
List of Housing Neighbourhoods
Adarbel
Aerdor
Aglombel
Alagaer
Anorist
Arthellam
Arivion
Athrad Cúron
Auriant
Bar Gwaun
Braiglad
Brandrú
Brangoloth
Bríthgíur
Bronadath
Calathon
Caras Pentil
Carglad
Celebmith
Celondal
Cirith Lunt
Cugmar
Círbann
Daerbel
Demlad
Dirnellam
Dol Tobas
Domgúr
Ecthelos
Edenost
Eithellad
Elwon
Eryn Gell
Fanuiost
Farador
Fen Meren
Fodhram
Gaerwing
Galadhraw
Galgaras
Garth Nellad
Gladellam
Glírannon
Gondil
Gwaetham
Haradond
Harthadol
Himadab
Hwestor
Húnthand
Iorath
Lagorst
Lalormen
Langrath
Londhad
Líraglar
Maedhol
Merilhad
Muingar
Naith Dîn
Naith Faras
Nan Triel
Narnamon
Nen Gwilith
Níniach
Nîn Thiliad
Nóruimar
Ost Duinen
Parantol
Parth Ithil
Pel Caun
Rhúnemir
Ronglond
Ruinfalas
Rustanor
Râd Ethuil
Saerath
Sengast
Siramon
Tagolfen
Tarag Mereth
Targeber
Telugarth
Tham Orbarad
Thandrath
Thorodion
Tol Faen
Uialdor
Mailboxes
Mailbox - There are mailboxes at each individual residence.
Tasks Bulletin Board
Complete groupings of Tasks Bulletin Boards (levels 1-110) exist in multiple locations in each neighborhood.
Crafting
While there are no public crafting areas in the Belfalas neighborhoods, many residents leave their homes and yards accessible to neighbors. If they have purchased crafting stations from the LOTRO Store and have set permissions to allow the use of decorations, you can access these resources any time. Try visiting the Kinship islands for your best chance of finding accessible decorations.
Travelling
Milestone - there is no milestone in the Cape of Belfalas.
You can port to the Premium Gondorian (Cape of Belfalas) housing area using a horse located beside Nothwen, the Cape of Belfalas Housing Broker, in Dol Amroth (near the Stable-master [75.5S, 72.4W]), or in Minas Tirith. (There is no horse available in Bree.)

The horse from Dol Amroth will port you to the Northern end of the Cape [84.1S, 69.2W], while the horse from Minas Tirith will port you to the Southern end of the cape [88.3S, 60.0W]. There is no horse from Bree.

You can also reach the Cape on horse by exiting Dol Amdroth and traveling south along the coast road. Or by traveling west from Dor-en-Ernil in Central Gondor. Note that this route is full of level 100 enemies as you reach Central Gondor!

Both locations place you on Cape Road which leads to the Lighthouse, Narvindon[92.7S, 62.4W].
SPECIAL NOTE ON TRAVEL FROM BREE:

While there are specific travel horses from Dol Amroth (Lvl 100) and Minas Tirith (lvl 100+) but not from Bree, you can use the Broker interface to visit any house via the "Tour House" button.
(Select a House and then on the right side of the UI at the bottom is the "Tour House" button. This ports you to that house, and then you can wander around that neighborhood at will!)
You can ride or walk from the north-end of the Cape to Dol Amroth safely with no Creatures molesting you. However, that is not true if you leave via the southern end.
What this means is that you can visit a house in the Cape and then hoof it back to Dol Amroth and grab the stable point there. . . which does link back to South Bree!
Otherwise, if you leave from Bree, you can't easily get back! -- unless you remembered to bind a Milestone, or are a Hunter or Warden, etc.
Of course if you purchase a house, you will get a port direct to that house, just as with Classic Housing - but still can't return without some other mechanic!
Quests
This housing area has several one-time quests and a related Deed, to tour the area and get into the seaside state of mind.
They can be picked at the Lighthouse, Narvindon, and reward new Gondorian decorations.
Deed
Doing all the above quests completes a deed that also rewards a Gondorian house decoration.
The following deeds can be advanced by visiting this place:
Services
A 10% discount on goods and services is supplied for local residents. Should you be a member of a Kinship with a Kinhouse in the neighborhood, a 15% discount is available.
This is from the vendors found in the local town center:
Found in multiple locations in each neighborhood:
-- on a scenic overlook above the Cathlond Docks [89.0S, 66.1W]
-- on a scenic overlook above the Cathlond Docks [89.0S, 66.1W]
-- on a scenic overlook above the Cathlond Docks [88.9S, 66.2W]
-- on a scenic overlook above the Cathlond Docks [89.0S, 66.2W]
-- on a scenic overlook above the Cathlond Docks [89.0S, 66.2W]
-- on a grand Plaza [91.5S, 60.8W]
-- on a Plaza adjacent to Narvindon [92.5S, 62.3W]
Note: Dol Amroth (Faction) (Friend) Vendor Discount (5%) applies.
Also, the characters on the account will automatically receive a Passive Skill that grants a 10% discount when purchasing and repairing with the vendors inside the neighbourhood in which house lies. This does not stack with the Kinship discount, which is 15%. If the character's Kinship house and personal house are in the same neighbourhood, only the Kinship discount will apply.
Item
Cost
 

'Ancestral Bonds' Theme

28  
 

'Autumn Ale' Theme

28  
 

'Belfalas' Theme

56  
 

'East of the Sea' Theme

28  
 

'Ered Luin' Theme

28  
 

'Gondorian Wall

14  
 

'Harvest Time' Painting

11  4  
 

'Heraldry' Painting

11  4  
 

'Hills of the Shire' Theme

14  
 

'Mithlond' Theme

28  
 

'Playful Children' Painting

11  4  
 

'Prancing Pony' Theme

28  
 

'Rohirrim Paneled Wall

14  
 

'Silent Hope' Theme

14  
 

Academic's Bentwood Bookshelf

14  
 

Academic's Table

14  
 

Academic's Table

11  4  
 

Autumn Elm Tree

14  
 

Barstool

11  4  
 

Basket Chandelier

12  
 

Bench

14  
 

Birch Tree

11  4  
 

Black Floor Paint

14  
 

Black Wall Paint

14  
 Breakfast Table Decoration Recipe
4  
 

Brewer's Waggon

11  4  
 

Brown Woven Doormat

11  4  
 

Cedar Tree

11  4  
 

Dark Green Floor Paint

14  
 

Dark Green Wall Paint

14  
 

Detailed Plaster Wall

14  
 

Dresser

14  
 

Dwarf-make Bench

14  
 

Dwarf-make Table

14  
 

Elm Tree

14  
 Elven Starry Chandelier Decoration Recipe
10  
 

Empty Brazier

11  4  
 

Farmer's Waggon

11  4  
 

Floral Tile Floor

14  
 

Floral Wallpaper

14  
 

Four Birch Trees

14  
 

Four Elm Trees

14  
 

Furnace

14  
 

Gold Floor Paint

14  
 

Gold Wall Paint

14  
 

Gondorian Marble Floor

14  
 

Gondorian Stone Floor

14  
 

Grey Diamond Stone Floor

14  
 

Hardwood Floor

14  
 

Hay Stook

11  4  
 

Haystack

11  4  
 

Indigo Floor Paint

14  
 

Indigo Wall Paint

14  
 

Interlocking Wood Floor

14  
 

Intricate Tile Floor

14  
 

Intricate Wood Floor

14  
 

Iron Brazier

11  4  
 

Iron Chandelier

12  
 

Iron Sconce

11  4  
 Large 'Dragon-fly' Rug Decoration Recipe
15  
 

Large Brown Rug

14  
 

Large Empty Wheelbarrow

11  4  
 

Large Red Leaf Rug

14  
 

Large Red Rug

14  
 

Large Round Chandelier

12  
 Large White 'Leaf Border' Rug Decoration Recipe
5  
 

Leaf Plaster Wall

14  
 

Lined Stone Wall

14  
 Log-holder Decoration Recipe
5  
 

Long Academic's Table

11  20  
 Long Dwarf-make Table Decoration Recipe
2  52  
 

Long Table

14  
 

Maple Tree

14  
 

Maple Tree-stump

11  4  
 

Marbled Stone Wall

14  
 

Master's Brazier

11  4  
 

Mossy Well

11  4  
 

Multi-coloured Stone Floor

14  
 

Navy Floor Paint

14  
 

Navy Wall Paint

14  
 

Olive Floor Paint

14  
 

Olive Wall Paint

14  
 

Picnic Bench

11  4  
 

Picnic Table

11  4  
 

Pink Rhododendron

11  4  
 

Pointed Bed

14  
 

Red Chair

11  4  
 

Red Chest

14  
 

Red Dresser

14  
 

Red Long Chair

14  
 

Red Round Table

11  4  
 Red Scholar's Bookshelf Decoration Recipe
10  
 

Red Stool

12  
 

Red Table

14  
 

Reed Vase

12  
 

Round Table

14  
 

Rounded Bed

14  
 

Rust Floor Paint

14  
 

Rust Wall Paint

14  
 Scholar's Bentwood Bookshelf Decoration Recipe
10  
 Scholar's Pointed Bookshelf Decoration Recipe
10  
 Scholar's Small Bentwood Bookshelf Decoration Recipe
5  
 

Shire Oak Tree

14  
 

Short Academic's Table

14  
 

Short Table

14  
 

Sienna Floor Paint

14  
 

Sienna Wall Paint

14  
 

Silver Candelabra

12  
 Small 'High Seas' Rug Decoration Recipe
20  
 Small 'Ring and Leaf' Rug Decoration Recipe
10  
 Small 'Tree Shadow' Rug Decoration Recipe
2  52  
 

Small Bed

14  
 

Small Brown Rug

11  4  
 

Small Cupboard

14  
 

Small Cut Stone Floor

14  
 

Small Empty Wheelbarrow

11  4  
 

Small Red Leaf Rug

11  4  
 

Small Red Rug

11  4  
 

Small Stone Fireplace

14  
 

Small Table

14  
 

Small Woven Brown Rug

11  4  
 

Spruce Tree

14  
 

Square Tile Floor

14  
 

Steel Brazier

12  
 

Stone Fireplace

14  
 

Stone Lilypad Tub

14  
 

Stone Well

11  4  
 

Tall Birch Tree

11  4  
 

Tall Iron Candlestand

12  
 

Textured Plaster Wall

14  
 

Umber Floor Paint

14  
 

Umber Wall Paint

14  
 

Violet Floor Paint

14  
 

Violet Wall Paint

14  
 

Wheelbarrow & Sacks

11  4  
 

White Floor Paint

14  
 

White Wall Paint

14  
 

Wood-plank Stone Wall

14  
 

Wooden Armchair

11  4  
 

Wooden Cart

14  
 

Wooden Chair

11  4  
 

Woodpanel Plaster Wall

14  
 

Yellow Rhododendron

11  4  
-- on a grand Plaza [91.6S, 60.8W]
-- on a Plaza adjacent to Narvindon [92.4S, 62.3W]
-- on a grand Plaza [91.6S, 60.9W]
-- on a Plaza adjacent to Narvindon [92.5S, 62.3W]
Locations
Roads - From west to east, the roads branching off the main coastal road are:
Tol Falthut - Northern Island

Falthut Dock - [86.8S, 74.7W]

Tol Lochú - Southern Island

Lochú Dock - [89.5S, 70.4W]
NPCs
Maps