Deepscrave
Jump to navigation
Jump to search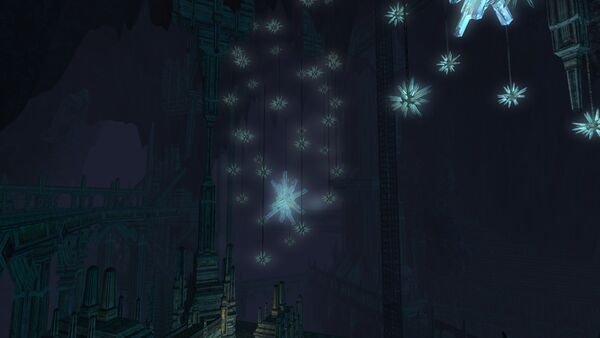 Description
Deepscrave is an area within Mount Gundabad. These mines and brigdes hold much of the old machinery of ancient Gundabad, including an old but functional elevator that travels up and down the Berg-beam. Gabil'akkâ explorers have made their camp at Aslíf, curled around the Berg-beam, while the noise of what machinery still functions echoes among the catwalks. Orcs of Gorgar the Ruthless have settlements from the upper reaches to the dirt floor of the cavern, but dragon-kin and hobgoblins of the Frost-horde have encroached on their territory. A great lift runs down the middle of Deepscrave, stopping at the middle level, upper level, ground floor, and catwalks far above. [48.8S, 117.0W]
The Deepscrave Elevator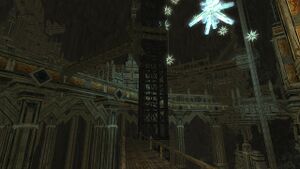 Through the middle of Deepscrave, a great lift runs along metal scaffolding from the dirt floor at the bottom all the way to the catwalks at the top of the cavern. [48.8S, 117.0W] Most landmarks share a tier with one of the lift access points, but some, like Kordh Gúrat, sit between tiers.
Catwalks
The uppermost level of Deepscrave and only accessible by the lift. A very small area.
Upper Tier
The bulk of the dwarf-camp of Aslíf lies on this tier, including the stables.
Middle Tier
The lower entrance to Aslíf lies on this tier, down the stairs from the stables.
Ground Floor
The dirt floor of the lowest reaches of Deepscrave, where orcs, trolls, and dragon-kin make their homes.
NPCs
See "list of NPCs" within Deepscrave

Quests
See "starting quests" and the landmarks for more quests
Creatures
The following creatures are found within this area:
To see all creatures within this region see:
Maps
Deepscrave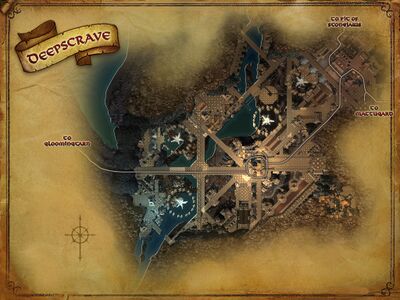 Settlements, Areas and Landmarks of Gundabad

Areas:
Câr Bronach • Clovengap • Deep Beneath Gundabad • Deepscrave • Gloomingtarn • Máttugard • Pit of Stonejaws • Welkin-lofts
Settlements:
Câr Bronach: Grúmachath • Leitstáth


Clovengap: Bazanmanar • Hagbuth
Deepscrave: Aslíf
Gloomingtarn: Watchers' Roost
Máttugard: Asbaj-khîrfin • Imrêkh-guthlu • Maergrind, the Noble Gate • Vérnozal • Zidir-nesad, the Steepset
Pit of Stonejaws: Bárgstad
Welkin-lofts: Fellgát • Ibdêkh-buzru, the Thing-fold

Landmarks:
Câr Bronach: Agal Dûn • Bálach Iaran, the Iron Pass • Clavanail • Crágan Bris • Eiglinn • Eiricháv • Hlídborg • Mur Shatraug, the Witch-gate (Exterior) • Rathad Caul, the Narrow Way • Skáilag • Tâg Fógarrach • Toll Oivas • Tûr Fúar, the Drearspire


Clovengap: Amgaruslun • Anatrâd • Burmumekhem • Danakh-khêj • Dashât-zahar • Frósthel • Garânashmar • Kurdushâlak • Maranazhâr • Min Návaid • Nâtatharr • Skarashulg • Stókkset • Tharrkirîn
Deepscrave: 'Abad-nuhbu, the Berg-beam • Buzra-salân • Dalugronk • Durbángh • Durshulot • Gabil-memâg • Gazat-fark • Kordh Gúrat • Shataz-kordh • Skrizagáf • Vatug-ronk, the Groaning Pit
Gloomingtarn: Abkân'aban, the Stone of Wakening • Burmumekhem • Drúkala • Durthuzâram, the Dark Lake • Glittengrof • Lochan Dúv • Lugun-nâla • Mîn Lorg • Ormgren • Skelstrand • Zâram-mekhem
Máttugard: Brúvraum • Búshatap • Khorroz • Ronglagam • Sadauk-kala • Shalakibal • Tholmuzog • Vâr Nuchur
Pit of Stonejaws: Adkhât-zahhar, the Houses of Rest • Akhaldarâg • Borkordh • Mur Shatraug, the Witch-gate (Interior) • Shakhajât • Stazg Vozag
Welkin-lofts: Bagud-bukhnu • Bagud-dum • Bazan-medan • Draurákh • Flogalith • Grymmclúd • Mullach Cagar • Thyrstáth • Uzdarulzahar

Interiors:
Câr Bronach: Eiricháv • Skáilag • Toll Oivas


Clovengap: Min Návaid
Deepscrave: Durbángh • Filthy Goblin-den • Hideout • Skrizagáf • Vatug-ronk, the Groaning Pit
Gloomingtarn: Glittengrof • Mîn Lorg • Ormgren
Máttugard: Hall of Vérnozal • Máttugard Troll-den
Pit of Stonejaws: Shakhajât • Zul-mazal
Welkin-lofts: Bagud-dum • Draurákh • Thyrstáth

Dungeons:
—
Instances:
Clovengap: The Hiddenhoard of Abnankâra


Deepscrave: Assault on Dhúrstrok
Gloomingtarn: Den of Pughlak
Pit of Stonejaws: Adkhât-zahhar, the Houses of Rest
Welkin-lofts: High Above Gundabad