The Black Crack
Jump to navigation
Jump to search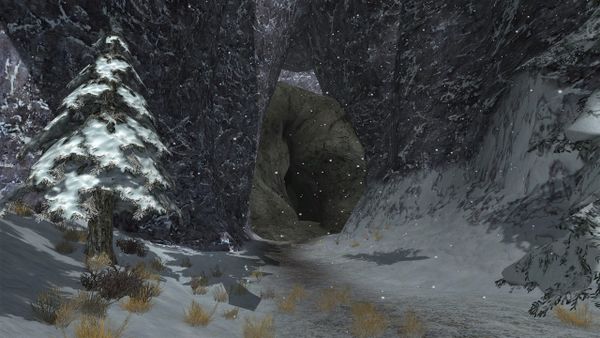 The Black Crack is a landmark within Northern High Pass, in the Misty Mountains. [20.4S, 5.4E]
High high up the northern-most mountains of the High Pass lies the once secret passage into Goblin-town. A narrow path begins just north-east of Glóin's camp, outside the "main gate", that winds itself up the mountainsides, over bodies of snow, past boulders, until it eventually turns north into a cul-de-sac, where the crack is found.
Explorers should not let the serene outside fool them, as inside the crack a dozen goblins will leave no time to find one's bearings.
Directions:
From Vindurhal, which has a Milestone, there is a winding path that safely leads straight to this location, very high above the goblin camps. It begins just west of the dwarf-camp and continues on and on, eventually reaching the crack head-on.
From Hrimbarg, which has a Stable-master, ride northwards (with just a notch westwards) towards Northern High Pass Camp outside the Mountain's Throat; from there, see above for the final route.
Quests
Involving:
Deeds
These deeds can be advanced by visiting the Black Crack:
Lore
This small cave in the rocks of the High Pass offers apparent shelter for travellers in times of storm, but it was long ago discovered to be a concealed entrance into the burrows of Goblin-town below, from which goblins would emerge in the dark of night to kidnap those foolish enough to make a camp here.
These days the crack sees little use as few even attempt the crossing any more, and the goblins more frequently emerge through the larger gate down below as they make ominous preparations for war. — Deed
"Soon Fíli and Kíli came crawling back, holding on to the rocks in the wind. 'We have found a dry cave,' they said, 'not far round the next corner; and ponies and all could get inside.'
"'Have you thoroughly explored it?' said the wizard, who knew that caves up in the mountains were seldom unoccupied.
"'Yes, yes!' they said, though everybody knew they could not have been long about it; they had come back too quick. 'It isn't all that big, and it does not go far back.'" — The Hobbit, by Tolkien
Gallery