High Crag
Jump to navigation
Jump to search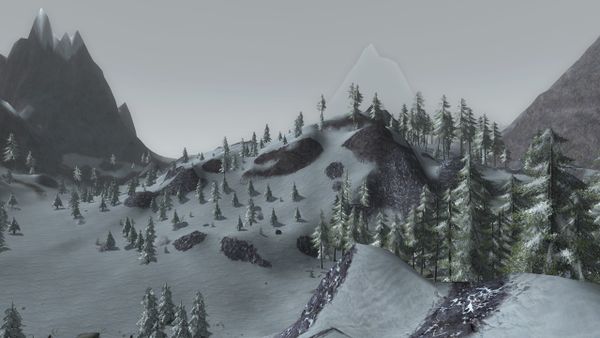 High Crag is an area within The Misty Mountains in the central region.
This area lies crammed between steep ridges, south-east and south of Western Bruinen Source and East respectively, and north of Giant Halls. To the south the two narrow passes are guarded by the Dourhand fortress of Gabilazan to the west and the trolls and giants of Rakhâs-bizar to the east. Pockets of forests with bears, hawks, and mammoths are spread around the hillsides and many deep dead-end valleys. Some ruins remind explorers about old times when the dwarves mined for gold and silver.
Rakhâs-bizar, while guarded by brutish trolls and giants, can be traversed quickly and easily. While the Dourhand dwarves of Gabilazan may pose much less challenge, the south gate into the Giant Halls is guarded by giant who is unavoidable. While Gabilazan's landmark flag stands in Giant Halls, most of the old fortress and mining center falls within High Crag. Thus two interesting buildings belongs to this area, the Gabilazan Vault and Halmur Stoneshaper's Tomb. The vault contains the very first stone, among other relics, that was laid for the fortress, but is poorly guarded by Dourhands. The tomb is instead guarded by a lone dwarf, a descendant of the tomb's inhabitant, keeping all Dourhands and would-be thieves from stealing anymore treasure.
The dwarves, Larus and Vighar, have set up camp alongside the elf Golhador within central High Crag. They offer a small selection of services, as well as an array of quests to keep adventurers busy. These services consist of a task-board, stable-master, and a supplier. Despite the lack of services, the rich wildlife attracts many hunters for meat and hide, and the area's connections in all cardinal points but west makes it one of the most trafficked areas in the Misty Mountains.
Landmarks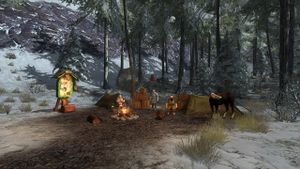 These landmarks are located within High Crag:
Dungeons
Quests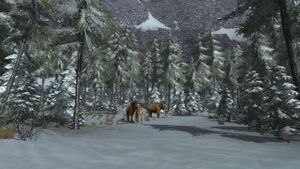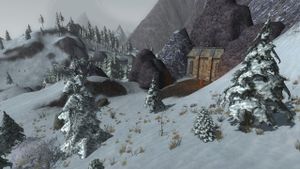 See "starting quests" and the landmarks for more quests
Starting:

Involving:
NPCs
Travelling
Mobs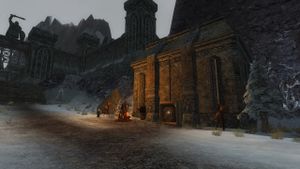 The following creatures are found within this area:
Maps
Gallery