Eastern Gondor
Jump to navigation
Jump to search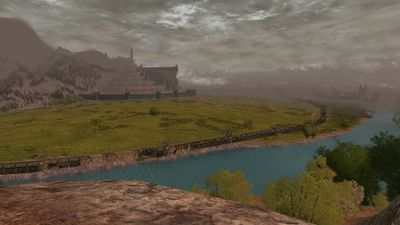 Eastern Gondor is a region in the east of Middle-earth. It is adjacent to Central Gondor and Old Anórien.

Red fires burn in the east. Black clouds wrack the sky. The Enemy is moving, mustering at the very doorstep of Gondor. But still hope remains: the ships that raided Pelargir now lie in the hands of Aragorn, who seeks to sail north and reclaim the lands of men. With the Witch-king's army preparing to besiege Minas Tirith, you must keep the forces of darkness from learning of Aragorn's plan and seek allies and information to help defend Middle-earth from the foul legions of Sauron.
Lore

The second of the two great nations of Men founded in Middle-earth by Elendil after the Downfall of Númenor, the other being Arnor in the north. Gondor was located to the west of Mordor, on the Bay of Belfalas.
Gondor was at first ruled jointly by Elendil's sons Isildur and Anárion. Both Elendil and Anárion were lost in the Siege of Barad-dûr, and his brother Isildur soon afterwards in the Disaster of the Gladden Fields, and so the Kingship of Gondor fell on Anárion's son Meneldil. Thus, the Kings of Gondor were descendants of Anárion through many generations until the time of Eärnur.
When Eärnur was lost in Minas Morgul in III 2050, the rule of Gondor was taken up by the King's Steward, Mardil Voronwë; the death of Eärnur was not certain, and so Mardil and the Stewards who followed him pledged to rule 'until the King comes back'. Unlikely though this seemed, it happened almost a thousand years later in III 3019 when Aragorn Elessar, descendant by right line of Isildur, elder brother of Anárion, reclaimed the throne of Gondor.
Its name means "Land of Stone", from Sindarin gond (stone) + (n)dor (land), most likely given to it because of the Ered Nimrais and other mountain chains in the land.
Areas
Fight to keep the enemy at bay! The East bank has been sacked and the city is overrun. Hold the line against the forces of the Witch-king in hope that the aid from Pelargir does not come too late.
Instances
Instances in the Ashes of Osgiliath cluster are as follows:
Connected to
Reputation Faction
Quests
See also:

Epic Quest Line

Upper Lebennin

Lossarnach

South Ithilien

Osgiliath

Warbands of Eastern Gondor



Creatures
See also: Category:Eastern Gondor Creatures
Warbands
Roving Threats
Deeds

Maps
Category Overview