Den of Pughlak
Jump to navigation
Jump to search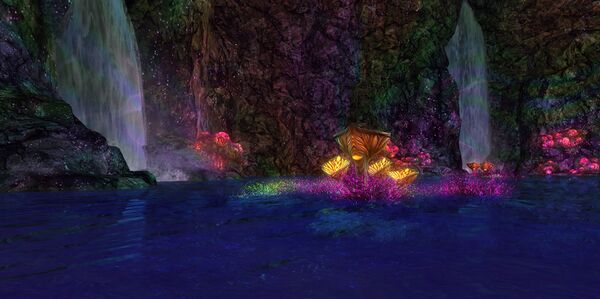 Location
The instance is available in the Instance Finder after completing Discovery: Den of Pughlak. It is located on the east shore of Durthuzâram, the Dark Lake at the end of a goblin outpost. [45.9S, 118.8W].
At [47.6S, 121.4W] there is a boat which takes you to the other shore.
Difficulty Level
This is a scaled instance, designed for a solo, duo and small fellowship. Tier 1 is available at level 130, but the higher tiers are level 140 and higher.
Estimated completion time is between 15–30 minutes.
Quests
Deeds
Instance Overview
Walk-through and Tactics
Boss 1
The boss and all adds can be kited. Damage dealers should focus on the boss first. Several waves of adds will spawn during the fight, which inflict wounds with high damage over time. Careful kiting should allow everyone to avoid receiving wounds. Once the boss is defeated, clear up the adds and you're done.
Rewards
Boss 1
Boss 2
Settlements, Areas and Landmarks of Gundabad

Areas:
Câr Bronach • Clovengap • Deep Beneath Gundabad • Deepscrave • Gloomingtarn • Máttugard • Pit of Stonejaws • Welkin-lofts
Settlements:
Câr Bronach: Grúmachath • Leitstáth


Clovengap: Bazanmanar • Hagbuth
Deepscrave: Aslíf
Gloomingtarn: Watchers' Roost
Máttugard: Asbaj-khîrfin • Imrêkh-guthlu • Maergrind, the Noble Gate • Vérnozal • Zidir-nesad, the Steepset
Pit of Stonejaws: Bárgstad
Welkin-lofts: Fellgát • Ibdêkh-buzru, the Thing-fold

Landmarks:
Câr Bronach: Agal Dûn • Bálach Iaran, the Iron Pass • Clavanail • Crágan Bris • Eiglinn • Eiricháv • Hlídborg • Mur Shatraug, the Witch-gate (Exterior) • Rathad Caul, the Narrow Way • Skáilag • Tâg Fógarrach • Toll Oivas • Tûr Fúar, the Drearspire


Clovengap: Amgaruslun • Anatrâd • Burmumekhem • Danakh-khêj • Dashât-zahar • Frósthel • Garânashmar • Kurdushâlak • Maranazhâr • Min Návaid • Nâtatharr • Skarashulg • Stókkset • Tharrkirîn
Deepscrave: 'Abad-nuhbu, the Berg-beam • Buzra-salân • Dalugronk • Durbángh • Durshulot • Gabil-memâg • Gazat-fark • Kordh Gúrat • Shataz-kordh • Skrizagáf • Vatug-ronk, the Groaning Pit
Gloomingtarn: Abkân'aban, the Stone of Wakening • Burmumekhem • Drúkala • Durthuzâram, the Dark Lake • Glittengrof • Lochan Dúv • Lugun-nâla • Mîn Lorg • Ormgren • Skelstrand • Zâram-mekhem
Máttugard: Brúvraum • Búshatap • Khorroz • Ronglagam • Sadauk-kala • Shalakibal • Tholmuzog • Vâr Nuchur
Pit of Stonejaws: Adkhât-zahhar, the Houses of Rest • Akhaldarâg • Borkordh • Mur Shatraug, the Witch-gate (Interior) • Shakhajât • Stazg Vozag
Welkin-lofts: Bagud-bukhnu • Bagud-dum • Bazan-medan • Draurákh • Flogalith • Grymmclúd • Mullach Cagar • Thyrstáth • Uzdarulzahar

Interiors:
Câr Bronach: Eiricháv • Skáilag • Toll Oivas


Clovengap: Min Návaid
Deepscrave: Durbángh • Filthy Goblin-den • Hideout • Skrizagáf • Vatug-ronk, the Groaning Pit
Gloomingtarn: Glittengrof • Mîn Lorg • Ormgren
Máttugard: Hall of Vérnozal • Máttugard Troll-den
Pit of Stonejaws: Shakhajât • Zul-mazal
Welkin-lofts: Bagud-dum • Draurákh • Thyrstáth

Instances:
Clovengap: The Hiddenhoard of Abnankâra


Deepscrave: Assault on Dhúrstrok
Gloomingtarn: Den of Pughlak
Pit of Stonejaws: Adkhât-zahhar, the Houses of Rest
Welkin-lofts: High Above Gundabad