Tyrn Lhuig
Jump to navigation
Jump to search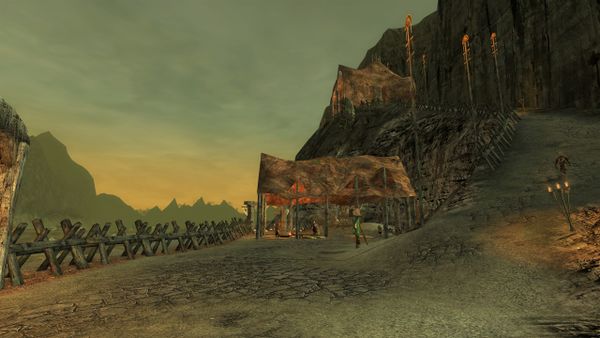 Location
Tyrn Lhuig is a settlement located within the area of Western Malenhad in Angmar. [1.9S, 33.2W]
This Trév Gállorg outpost is located just east of the enemy stronghold of Bail Róva, in the south-west of Malenhad. Populated mostly by hunters, this camp serves as the last safe refuge before the grim Watching-stones that split the swamp in half at Rammas Deluon. It is built in two levels, in which all services are found at the lower level, just within the palisades, while most of the quest givers are found at the upper level. The hunters do not have particularly high esteem for outsiders, at least not until they've proven themselves by taking on some of the challenges they can throw at them.
Visitors will find basic services such as a Healer, Provisioner, Camp Site Fire and a Tasks Bulletin Board which is maintained by Othran.
Travelling
Deeds
The following deeds can be obtained by visiting this place:
Quests
Starting:
Involving:
NPCs
Supplies & Provisions
Others
Lore
This small camp is inhabited by a band of hunters out of Aughaire, and as such harbour some sympathies for the Free Peoples of the Eriador.
Luckily for them, this camp is far too small to have come to the notice of the powers of Angmar... yet. — Deed text
Gallery