Ost Dúrgonn
Jump to navigation
Jump to search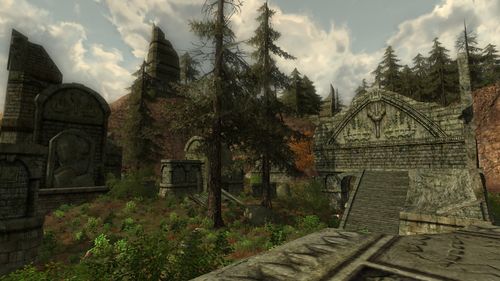 Location
Ost Dúrgonn is a landmark within South Trollshaws in The Trollshaws. [31.8S, 20.7W]
This ruined fortress lies high above the forests of South Trollshaws and may only be reached by a narrow path from the south-west. These days the ruins are occupied by a dense population of fierce cave-claws that have built burrows within.
Deeds
The following deeds can be obtained by visiting this location:
Quests
Involving:
NPCs

Tóki Whitebeard
Mobs
The following creatures are found within this area:
Lore
Ost Dúrgonn was constructed by the ancient Kingdom of Arnor to stand guard over the main crossing into the Trollshaws and thus deny it to invaders from the East -- however, the greater threat proved to be from the North, and this fortress fell into misuse and eventual ruin as wars raged elsewhere.
Gallery