Jä-rannit
Jump to navigation
Jump to search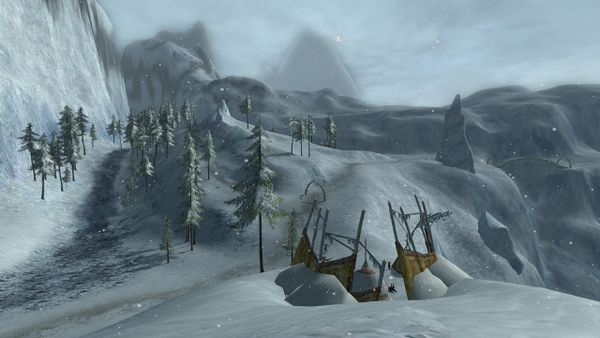 Jä-rannit (Lossoth for Ice Coast) is an area within Forochel, in the north-eastern region.
This area lies north of Itä-mâ, between the north-eastern shore of the Ice Bay of Forochel and towering mountain ridges. The wildlife includes bears, peikkos, and worms. In the south, from the main road a path forks off eastwards for the ancient Forodwaith, where a large amount of Angmarim have set up camp within the dwarven ruins of the Ironspan and Reodh Fuil. They have also set up many small camps by the shores of the ice bay.
The northbound main road runs from Itä-mâ, past a Camp Site Fire where Olavi and a few Lossoth fishermen are gathered as they are hindered from fishing by the disturbed wildlife and Angmarim. Another Camp Site Fire is found at the utter north-west-most corner of Jä-rannit, where is also a boat for the Sâri-surma instance.
In the north-west lies the capital town of Sûri-kylä where the Lossoth are worried about the dark tidings they have noticed, and how it affects their game and stocking up for the winter. Hence they offer quests aiming at gathering materials and pressing back the threats they see. The town provides the services of a Bard, Mailbox, Milestone, Reflecting Pool, Stable-master, and all sorts of class trainers.
Inside the Great Lodge of Sûri-kylä are a Vault-keeper, Healer, Provisioner, Supplier, and some trainers for the Forge, Ovens, and Workbench. The lodge is also the headquarters for the Lossoth of Forochel and their vendors.
Services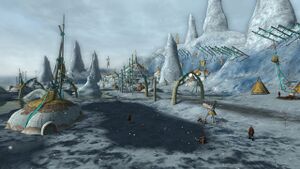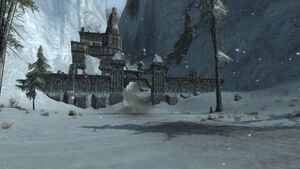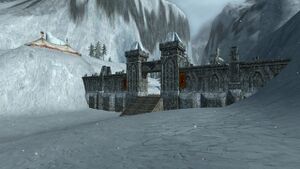 NPCs
See "list of NPCs" within the area
Quests
See "starting quests" and the landmarks for more quests
Starting:
Involving:
Creatures
The following creatures are found within the area:
Lore
"The Witch-king manifests his evil intent in Forochel too. East of Jä-rannit, a road runs through a series of Dwarf-built walls and gates—now held by Angmarim soldiers—to a long and forgotten pass into Angmar. Via this passage, agents of the Enemy sneak into Forochel in search of ancient treasures and a new foothold in the North. From there, they plan to sweep down into Evendim and finally lay claim to all the reaches of the ancient Dunedain kingdom of Arthedain." — Hero's guide
Maps
Gallery