Bruinen Source East
From Lotro-Wiki.com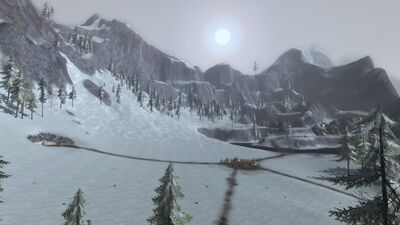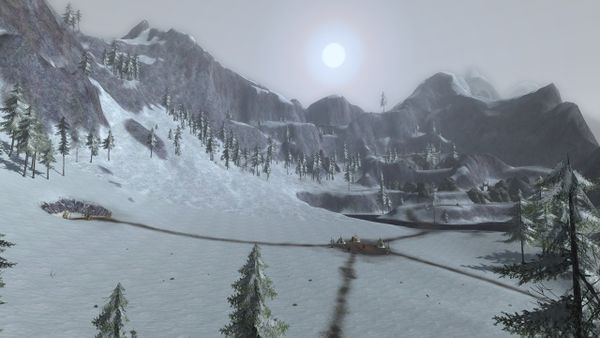 Bruinen Source East is an area within the The Misty Mountains in the northern region.
This area is in the northern centre of the Misty Mountains, connecting to four other areas through a well-beaten path to High Crag defended by many huge snow-bears and hawks, as well as the narrow passes of Nan Gongarag, Whitcleft, and Cirith Daur. The latter is badly marked at the in-game map but begins at a trail in the eastern reaches. [31.7S, 2.3E]
Bruinen Source East is a wide vale surrounded by steep and icy mountain faces, a vale in its double meaning. Here a large population of goblins have set up many small camps as well as larger fortifications, and from here they press back the Longbeards. Throughout the expanses vicious wargs are prowling for the unaware, and some snow-mantles seek shelter in the sparse groves of spruce.
All landmarks are found in the southern section of the vale. In the south-west, overlooking the Caldwell Pool, lies a Camp Site Fire, though without any mustering horn. It is just north-east of Whitcleft, but is not directly accessible from there.
Landmarks
These landmarks are located around Bruinen Source East:
Travelling
Quests
See the landmarks for more involving quests.
Involving
Mobs
The following creatures are found within this area:
Maps