Torech Ullug
Jump to navigation
Jump to search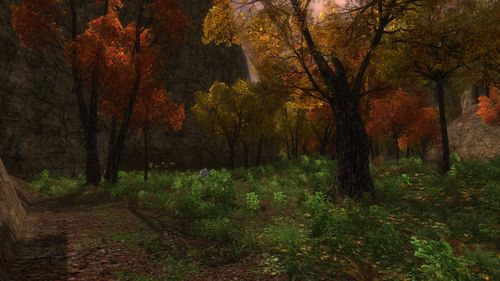 Location
Torech Ullug is a landmark within Tâl Bruinen in the Trollshaws. [39.7S, 14.6W]
At the eastern shores of the Bruinen river, in the southern Tâl Bruinen, a beautiful glade is hidden under the steep mountain side. It would be a wonderful place for a picnic, would it not be for the monstrous rock-worm matriarch that has made it her nesting ground.
This is one of the landmarks that show on the radar map when there but does not add a PoI on the region map.
Deeds
The following deeds can be obtained by visiting this location:
Quests
Involving:
Mobs
The following creatures are found within this area:
Lore
It is said that there is a nesting area for the numerous worms who infest Tâl Bruinen, and it would seem that you have stumbled upon it here at Torech Ullug.
Take care! The mothers of nesting worms are known for their particularly vicious disposition, as well as a ravenous appetite for fresh meat to feed to their young. - Deed text
Gallery