Sagroth, Lair of Vermin
Jump to navigation
Jump to search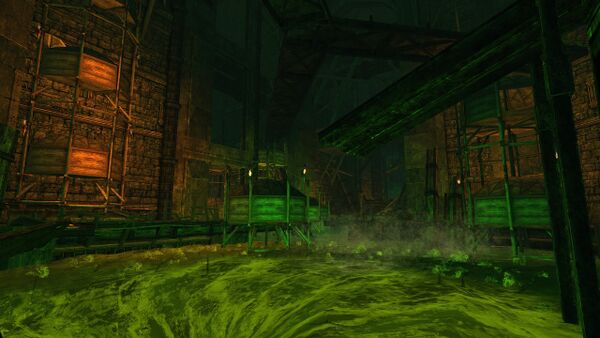 "Years under the corruptive influence of the Iron Crown have poisoned the land, leading to rumours of monstrosities lurking within Carn Dûm's sewers. A sorcerer named Gárvadach pursued these rumours for his own ambitious purposes. Little did he know, a group of Trév Duvárdain has tracked him down, determined to put an end to his twisted aspirations...."
Sagroth, Lair of Vermin is an instance designed for a fellowship. Part of The Return to Carn Dûm Instance Cluster, it was released in Update 35.
Location
The instance is available in the Instance Finder after completing Discovery: Carn Dûm (completed on arrival in Bail Avarc).
Difficulty Level
This is a scaled instance with a minimum level of 140, designed for a solo, duo and small fellowship. The instance is available at level 140
Estimated completion time is between 15–30 minutes solo or on tier 1 in a group.
Quests
Deeds
Creatures
These mobs are encountered within Sagroth:
Click [+] to expand a list of creatures.
Instance Overview
Walk-through and Tactics
The Angmarim found throughout this instance will buff themselves with the following removable Corruption effect:
The Barghests of Sagroth can drain Power and Morale from their targets:
Rewards
Boss 1
Gárvadach's Chest - Tier 2

Enhancement Rune, Lvl 131

Winter Delver's Essence Box

Delver's Lively Essence Box

Stout Boots of Sagroth, Lair of Vermin

Vigorous Boots of Sagroth, Lair of Vermin

Potent Boots of Sagroth, Lair of Vermin

Robust Sabatons of Sagroth, Lair of Vermin

Resolute Sabatons of Sagroth, Lair of Vermin

Curative Boots of Sagroth, Lair of Vermin

Forceful Boots of Sagroth, Lair of Vermin

Pristine Stout Boots of Sagroth, Lair of Vermin

Pristine Vigorous Boots of Sagroth, Lair of Vermin

Pristine Potent Boots of Sagroth, Lair of Vermin
Pristine Robust Sabatons of Sagroth, Lair of Vermin
Pristine Resolute Sabatons of Sagroth, Lair of Vermin

Pristine Curative Boots of Sagroth, Lair of Vermin

Pristine Forceful Boots of Sagroth, Lair of Vermin
Boss 2
Rádarríg's Chest - Solo/Duo + Tier 1

Delver's Lively Essence Box

Enhancement Rune, Lvl 131

Stout Hauberk of Sagroth, Lair of Vermin

Vigorous Hauberk of Sagroth, Lair of Vermin

Potent Hauberk of Sagroth, Lair of Vermin

Robust Chestplate of Sagroth, Lair of Vermin
Resolute Chestplate of Sagroth, Lair of Vermin

Curative Robes of Sagroth, Lair of Vermin

Forceful Robes of Sagroth, Lair of Vermin
Rádarríg's Strongly Threaded Bow
Finely Strung Bow of Sagroth, Lair of Vermin
Expertly Strung Bow of Sagroth, Lair of Vermin
Rádarríg's Makeshift Bow
Rádarríg's Finely Strung Bow

Mighty Sword of Sagroth, Lair of Vermin

Balanced Sword of Sagroth, Lair of Vermin

Fleet Sword of Sagroth, Lair of Vermin

Broad Targe of Sagroth, Lair of Vermin

Stout Targe of Sagroth, Lair of Vermin

Reinforced Targe of Sagroth, Lair of Vermin

Indomitable Axe of Sagroth, Lair of Vermin

Stalwart Axe of Sagroth, Lair of Vermin

Honed Dagger of Sagroth, Lair of Vermin

Heavy Iron Mace of Sagroth, Lair of Vermin

Heavy War Hammer of Sagroth, Lair of Vermin

Balanced War Hammer of Sagroth, Lair of Vermin

Powerful Bludgeon of Sagroth, Lair of Vermin

Sharp Stilletto of Sagroth, Lair of Vermin
Item:Restorative Shield of Sagroth, Lair of Vermin

Resilient Shield of Sagroth, Lair of Vermin
Rádarríg's Chest - Tier 2

Delver's Lively Essence Box

Enhancement Rune, Lvl 131

Pristine Stout Hauberk of Sagroth, Lair of Vermin

Pristine Vigorous Hauberk of Sagroth, Lair of Vermin

Pristine Potent Hauberk of Sagroth, Lair of Vermin

Pristine Robust Chestplate of Sagroth, Lair of Vermin

Pristine Resolute Chestplate of Sagroth, Lair of Vermin

Pristine Curative Robes of Sagroth, Lair of Vermin

Pristine Forceful Robes of Sagroth, Lair of Vermin

Superior Reinforced Targe of Sagroth, Lair of Vermin

Carn Dûm Chisel of Fire

Carn Dûm Chisel of Restoration

Carn Dûm Chisel of Lightning

Carn Dûm Standard of War

Carn Dûm Standard of Victory

Carn Dûm Standard of Hope

Rádarríg's Stickpin of Nature's Glory

Rádarríg's Stickpin of Bestial Strength

Rádarríg's Stickpin of Ancient Wisdom

Carn Dûm Drum of Ancient Stirrings

Carn Dûm Drum of Deep Doom

Carn Dûm Drum of Aged Secrets

Rádarríg's Tome of Untold Power

Rádarríg's Tome of Whispered Secrets

Rádarríg's Etched Spear Carving

Rádarríg's Etched Shield Carving

Rádarríg's Etched Fist Carving

Rádarríg's Prized Buckle

Rádarríg's Shiny Buckle

Rádarríg's Conviction Signal

Rádarríg's Tactics Signal

Rádarríg's Strength Signal

Rádarríg's Guile Signal

Stout Hauberk of Sagroth, Lair of Vermin

Vigorous Hauberk of Sagroth, Lair of Vermin

Potent Hauberk of Sagroth, Lair of Vermin

Robust Chestplate of Sagroth, Lair of Vermin
Resolute Chestplate of Sagroth, Lair of Vermin

Curative Robes of Sagroth, Lair of Vermin

Forceful Robes of Sagroth, Lair of Vermin
Rádarríg's Strongly Threaded Bow
Finely Strung Bow of Sagroth, Lair of Vermin
Expertly Strung Bow of Sagroth, Lair of Vermin
Rádarríg's Makeshift Bow
Rádarríg's Finely Strung Bow

Mighty Sword of Sagroth, Lair of Vermin

Balanced Sword of Sagroth, Lair of Vermin

Fleet Sword of Sagroth, Lair of Vermin

Broad Targe of Sagroth, Lair of Vermin

Stout Targe of Sagroth, Lair of Vermin

Reinforced Targe of Sagroth, Lair of Vermin

Indomitable Axe of Sagroth, Lair of Vermin

Stalwart Axe of Sagroth, Lair of Vermin

Honed Dagger of Sagroth, Lair of Vermin

Heavy Iron Mace of Sagroth, Lair of Vermin

Heavy War Hammer of Sagroth, Lair of Vermin

Balanced War Hammer of Sagroth, Lair of Vermin

Powerful Bludgeon of Sagroth, Lair of Vermin

Sharp Stilletto of Sagroth, Lair of Vermin
Item:Restorative Shield of Sagroth, Lair of Vermin

Resilient Shield of Sagroth, Lair of Vermin
Rádarríg's Chest - Tier 3

Delver's Lively Essence Box

Delver's Vivid Essence Box

Enhancement Rune, Lvl 131
Random Tracery, level 131, incomparable

Conspicuous Portent of Strength

Conspicuous Portent of Vitality

Conspicuous Portent of Deftness

Skill Power Costs

Skill Power Costs

Enduring Power

Enduring Power

Pristine Carn Dûm Drum of Ancient Stirrings

Pristine Carn Dûm Drum of Deep Doom

Pristine Carn Dûm Drum of Aged Secrets

Rádarríg's Pristine Prized Buckle

Rádarríg's Pristine Shiny Buckle

Rádarríg's Pristine Etched Spear Carving

Rádarríg's Pristine Etched Shield Carving

Rádarríg's Pristine Etched Fist Carving

Rádarríg's Pristine Tome of Untold Power

Rádarríg's Pristine Tome of Whispered Secrets

Rádarríg's Pristine Conviction Signal

Rádarríg's Pristine Tactics Signal

Rádarríg's Pristine Strength Signal

Rádarríg's Pristine Guile Signal

Pristine Carn Dûm Chisel of Fire

Pristine Carn Dûm Chisel of Restoration

Pristine Carn Dûm Chisel of Lightning

Rádarríg's Pristine Stickpin of Nature's Glory

Rádarríg's Pristine Stickpin of Bestial Strength

Rádarríg's Pristine Stickpin of Ancient Wisdom

Pristine Carn Dûm Standard of War

Pristine Carn Dûm Standard of Victory

Pristine Carn Dûm Standard of Hope

Rádarríg's Superior Strongly Threaded Bow

Finely Strung Superior Bow of Sagroth, Lair of Vermin

Expertly Strung Superior Bow of Sagroth, Lair of Vermin

Superior Broad Targe of Sagroth, Lair of Vermin

Superior Stout Targe of Sagroth, Lair of Vermin

Superior Mighty Sword of Sagroth, Lair of Vermin

Superior Indomitable Axe of Sagroth, Lair of Vermin

Superior Honed Dagger of Sagroth, Lair of Vermin

Superior Heavy Iron Mace of Sagroth, Lair of Vermin

Rádarríg's Superior Finely Strung Bow

Rádarríg's Superior Makeshift Bow

Superior Powerful Bludgeon of Sagroth, Lair of Vermin
Item:Superior Restorative Shield of Sagroth, Lair of Vermin

Superior Resilient Shield of Sagroth, Lair of Vermin

Superior Fleet Sword of Sagroth, Lair of Vermin

Superior Sharp Stilletto of Sagroth, Lair of Vermin

Superior Stalwart Axe of Sagroth, Lair of Vermin

Superior Balanced War Hammer of Sagroth, Lair of Vermin

Superior Balanced Sword of Sagroth, Lair of Vermin

Pristine Stout Hauberk of Sagroth, Lair of Vermin

Pristine Vigorous Hauberk of Sagroth, Lair of Vermin

Pristine Potent Hauberk of Sagroth, Lair of Vermin

Pristine Robust Chestplate of Sagroth, Lair of Vermin

Pristine Resolute Chestplate of Sagroth, Lair of Vermin

Pristine Curative Robes of Sagroth, Lair of Vermin

Pristine Forceful Robes of Sagroth, Lair of Vermin

Superior Reinforced Targe of Sagroth, Lair of Vermin

Carn Dûm Chisel of Fire

Carn Dûm Chisel of Restoration

Carn Dûm Chisel of Lightning

Carn Dûm Standard of War

Carn Dûm Standard of Victory

Carn Dûm Standard of Hope

Rádarríg's Stickpin of Nature's Glory

Rádarríg's Stickpin of Bestial Strength

Rádarríg's Stickpin of Ancient Wisdom

Carn Dûm Drum of Ancient Stirrings

Carn Dûm Drum of Deep Doom

Carn Dûm Drum of Aged Secrets

Rádarríg's Tome of Untold Power

Rádarríg's Tome of Whispered Secrets

Rádarríg's Etched Spear Carving

Rádarríg's Etched Shield Carving

Rádarríg's Etched Fist Carving

Rádarríg's Prized Buckle

Rádarríg's Shiny Buckle

Rádarríg's Conviction Signal

Rádarríg's Tactics Signal

Rádarríg's Strength Signal

Rádarríg's Guile Signal

Stout Hauberk of Sagroth, Lair of Vermin

Vigorous Hauberk of Sagroth, Lair of Vermin

Potent Hauberk of Sagroth, Lair of Vermin

Robust Chestplate of Sagroth, Lair of Vermin
Resolute Chestplate of Sagroth, Lair of Vermin

Curative Robes of Sagroth, Lair of Vermin

Forceful Robes of Sagroth, Lair of Vermin
Rádarríg's Strongly Threaded Bow
Finely Strung Bow of Sagroth, Lair of Vermin
Expertly Strung Bow of Sagroth, Lair of Vermin
Rádarríg's Makeshift Bow
Rádarríg's Finely Strung Bow

Mighty Sword of Sagroth, Lair of Vermin

Balanced Sword of Sagroth, Lair of Vermin

Fleet Sword of Sagroth, Lair of Vermin

Broad Targe of Sagroth, Lair of Vermin

Stout Targe of Sagroth, Lair of Vermin

Reinforced Targe of Sagroth, Lair of Vermin

Indomitable Axe of Sagroth, Lair of Vermin

Stalwart Axe of Sagroth, Lair of Vermin

Honed Dagger of Sagroth, Lair of Vermin

Heavy Iron Mace of Sagroth, Lair of Vermin

Heavy War Hammer of Sagroth, Lair of Vermin

Balanced War Hammer of Sagroth, Lair of Vermin

Powerful Bludgeon of Sagroth, Lair of Vermin

Sharp Stilletto of Sagroth, Lair of Vermin
Item:Restorative Shield of Sagroth, Lair of Vermin

Resilient Shield of Sagroth, Lair of Vermin
Rádarríg's Chest - Tier 4

Delver's Vivid Essence Box

Enhancement Rune, Lvl 131

Rádarríg's Immaculate Stickpin of Nature's Glory

Rádarríg's Immaculate Stickpin of Bestial Strength

Rádarríg's Immaculate Stickpin of Ancient Wisdom

Immaculate Carn Dûm Chisel of Fire
Immaculate Carn Dûm Riffler of Restoration

Immaculate Carn Dûm Chisel of Lightning

Rádarríg's Immaculate Prized Buckle

Rádarríg's Immaculate Shiny Buckle

Rádarríg's Immaculate Conviction Signal

Rádarríg's Immaculate Tactics Signal

Rádarríg's Immaculate Strength Signal

Rádarríg's Immaculate Guile Signal

Rádarríg's Immaculate Etched Spear Carving

Rádarríg's Immaculate Etched Shield Carving

Rádarríg's Immaculate Etched Fist Carving

Immaculate Carn Dûm Standard of War

Immaculate Carn Dûm Standard of Victory

Immaculate Carn Dûm Standard of Hope

Rádarríg's Immaculate Tome of Untold Power

Rádarríg's Immaculate Tome of Whispered Secrets

Immaculate Carn Dûm Drum of Ancient Stirrings

Immaculate Carn Dûm Drum of Deep Doom

Immaculate Carn Dûm Drum of Aged Secrets

Conspicuous Portent of Strength

Conspicuous Portent of Vitality

Conspicuous Portent of Deftness

Skill Power Costs

Skill Power Costs

Enduring Power

Enduring Power

Pristine Carn Dûm Drum of Ancient Stirrings

Pristine Carn Dûm Drum of Deep Doom

Pristine Carn Dûm Drum of Aged Secrets

Rádarríg's Pristine Prized Buckle

Rádarríg's Pristine Shiny Buckle

Rádarríg's Pristine Etched Spear Carving

Rádarríg's Pristine Etched Shield Carving

Rádarríg's Pristine Etched Fist Carving

Rádarríg's Pristine Tome of Untold Power

Rádarríg's Pristine Tome of Whispered Secrets

Rádarríg's Pristine Conviction Signal

Rádarríg's Pristine Tactics Signal

Rádarríg's Pristine Strength Signal

Rádarríg's Pristine Guile Signal

Pristine Carn Dûm Chisel of Fire

Pristine Carn Dûm Chisel of Restoration

Pristine Carn Dûm Chisel of Lightning

Rádarríg's Pristine Stickpin of Nature's Glory

Rádarríg's Pristine Stickpin of Bestial Strength

Rádarríg's Pristine Stickpin of Ancient Wisdom

Pristine Carn Dûm Standard of War

Pristine Carn Dûm Standard of Victory

Pristine Carn Dûm Standard of Hope

Rádarríg's Superior Strongly Threaded Bow

Finely Strung Superior Bow of Sagroth, Lair of Vermin

Rádarríg's Immaculate Strongly Threaded Bow

Expertly Strung Superior Bow of Sagroth, Lair of Vermin

Superior Broad Targe of Sagroth, Lair of Vermin

Superior Stout Targe of Sagroth, Lair of Vermin

Superior Reinforced Targe of Sagroth, Lair of Vermin

Superior Mighty Sword of Sagroth, Lair of Vermin

Superior Indomitable Axe of Sagroth, Lair of Vermin

Superior Honed Dagger of Sagroth, Lair of Vermin

Superior Heavy Iron Mace of Sagroth, Lair of Vermin

Rádarríg's Superior Finely Strung Bow

Rádarríg's Superior Makeshift Bow

Superior Powerful Bludgeon of Sagroth, Lair of Vermin
Item:Superior Restorative Shield of Sagroth, Lair of Vermin

Superior Resilient Shield of Sagroth, Lair of Vermin

Superior Fleet Sword of Sagroth, Lair of Vermin

Superior Heavy War Hammer of Sagroth, Lair of Vermin

Superior Sharp Stilletto of Sagroth, Lair of Vermin

Superior Stalwart Axe of Sagroth, Lair of Vermin

Superior Balanced War Hammer of Sagroth, Lair of Vermin

Superior Balanced Sword of Sagroth, Lair of Vermin

Pristine Stout Hauberk of Sagroth, Lair of Vermin

Pristine Vigorous Hauberk of Sagroth, Lair of Vermin

Pristine Potent Hauberk of Sagroth, Lair of Vermin

Pristine Robust Chestplate of Sagroth, Lair of Vermin

Pristine Resolute Chestplate of Sagroth, Lair of Vermin

Pristine Curative Robes of Sagroth, Lair of Vermin

Pristine Forceful Robes of Sagroth, Lair of Vermin
Rádarríg's Chest - Tier 5

Luxurious Freshwater Fish Plate Recipe

Luxurious Beetroot Sticks Recipe

Luxurious Bacon-wrapped Sprouts Recipe

Luxurious Nut and Berry Bread Recipe

Delver's Vivid Essence Box

Enhancement Rune, Lvl 131
Random Tracery, level 131, epic

Rádarríg's Immaculate Stickpin of Nature's Glory

Rádarríg's Immaculate Stickpin of Bestial Strength

Rádarríg's Immaculate Stickpin of Ancient Wisdom

Immaculate Carn Dûm Chisel of Fire
Immaculate Carn Dûm Riffler of Restoration

Immaculate Carn Dûm Chisel of Lightning

Rádarríg's Immaculate Prized Buckle

Rádarríg's Immaculate Shiny Buckle

Rádarríg's Immaculate Conviction Signal

Rádarríg's Immaculate Tactics Signal

Rádarríg's Immaculate Strength Signal

Rádarríg's Immaculate Guile Signal

Rádarríg's Immaculate Etched Spear Carving

Rádarríg's Immaculate Etched Shield Carving

Rádarríg's Immaculate Etched Fist Carving

Immaculate Carn Dûm Standard of War

Immaculate Carn Dûm Standard of Victory

Immaculate Carn Dûm Standard of Hope

Rádarríg's Immaculate Tome of Untold Power

Rádarríg's Immaculate Tome of Whispered Secrets

Immaculate Carn Dûm Drum of Ancient Stirrings

Immaculate Carn Dûm Drum of Deep Doom

Immaculate Carn Dûm Drum of Aged Secrets

Conspicuous Portent of Strength

Conspicuous Portent of Vitality

Conspicuous Portent of Deftness

Skill Power Costs

Skill Power Costs

Enduring Power

Enduring Power

Pristine Carn Dûm Drum of Ancient Stirrings

Pristine Carn Dûm Drum of Deep Doom

Pristine Carn Dûm Drum of Aged Secrets

Rádarríg's Pristine Prized Buckle

Rádarríg's Pristine Shiny Buckle

Rádarríg's Pristine Etched Spear Carving

Rádarríg's Pristine Etched Shield Carving

Rádarríg's Pristine Etched Fist Carving

Rádarríg's Pristine Tome of Untold Power

Rádarríg's Pristine Tome of Whispered Secrets

Rádarríg's Pristine Conviction Signal

Rádarríg's Pristine Tactics Signal

Rádarríg's Pristine Strength Signal

Rádarríg's Pristine Guile Signal

Pristine Carn Dûm Chisel of Fire

Pristine Carn Dûm Chisel of Restoration

Pristine Carn Dûm Chisel of Lightning

Rádarríg's Pristine Stickpin of Nature's Glory

Rádarríg's Pristine Stickpin of Bestial Strength

Rádarríg's Pristine Stickpin of Ancient Wisdom

Pristine Carn Dûm Standard of War

Pristine Carn Dûm Standard of Victory

Pristine Carn Dûm Standard of Hope

Rádarríg's Superior Strongly Threaded Bow

Finely Strung Superior Bow of Sagroth, Lair of Vermin

Rádarríg's Immaculate Strongly Threaded Bow

Expertly Strung Superior Bow of Sagroth, Lair of Vermin

Superior Broad Targe of Sagroth, Lair of Vermin

Superior Stout Targe of Sagroth, Lair of Vermin

Superior Reinforced Targe of Sagroth, Lair of Vermin

Superior Mighty Sword of Sagroth, Lair of Vermin

Superior Indomitable Axe of Sagroth, Lair of Vermin

Superior Honed Dagger of Sagroth, Lair of Vermin

Superior Heavy Iron Mace of Sagroth, Lair of Vermin

Rádarríg's Superior Finely Strung Bow

Rádarríg's Superior Makeshift Bow

Superior Powerful Bludgeon of Sagroth, Lair of Vermin
Item:Superior Restorative Shield of Sagroth, Lair of Vermin

Superior Resilient Shield of Sagroth, Lair of Vermin

Superior Fleet Sword of Sagroth, Lair of Vermin

Superior Heavy War Hammer of Sagroth, Lair of Vermin

Superior Sharp Stilletto of Sagroth, Lair of Vermin

Superior Stalwart Axe of Sagroth, Lair of Vermin

Superior Balanced War Hammer of Sagroth, Lair of Vermin

Superior Balanced Sword of Sagroth, Lair of Vermin

Pristine Stout Hauberk of Sagroth, Lair of Vermin

Pristine Vigorous Hauberk of Sagroth, Lair of Vermin

Pristine Potent Hauberk of Sagroth, Lair of Vermin

Pristine Robust Chestplate of Sagroth, Lair of Vermin

Pristine Resolute Chestplate of Sagroth, Lair of Vermin

Pristine Curative Robes of Sagroth, Lair of Vermin

Pristine Forceful Robes of Sagroth, Lair of Vermin
Gallery