Ost Thondol
Jump to navigation
Jump to search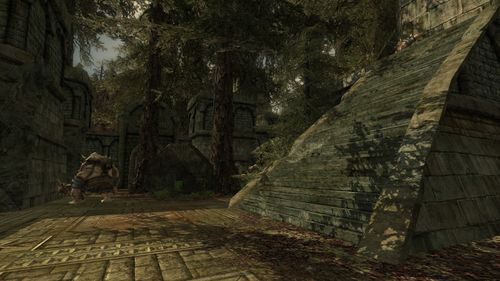 Location
Ost Thondol is a landmark within Bruinen Gorges in The Trollshaws. [31.1S, 13.2W]
High above the narrow paths of the eastern Bruinen Gorges an old watchtower stands vigil. It is reached by one small path from the south, just above the troll-cave Nurath. The ruins are quite well preserved and yet today the upper levels are able to hold the weight of several stone-trolls, many of which are occupying this location. At the heart of the ruins awaits a terrible evil set down from Nan Tornaeth in the north.
Quests
The following quests can be advanced at this location:
Deeds
The following deeds can be obtained by visiting this location:
Mobs
Lore
"Built as an outlaying watchtower of Nan Tornaeth to the north, Ost Thondol once stood watch over the approaches to the Ford of Bruinen."
Gallery