Minas Ciliant
Jump to navigation
Jump to search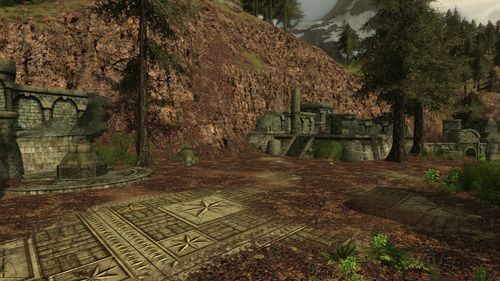 Location
Minas Ciliant is a landmark within Nan Tornaeth in The Trollshaws. [27.0S, 14.7W]
The only way to this ruined fortress is a bridge from the southern Amon Varadh. The path continues further eastwards to Ost Chall and Ost Brandras beyond. Minas Ciliant was once a proud watchtower, located just southeast Gladdalf, now it is home to wights, hill-men, and fell creatures.
Deeds
The following deeds can be obtained by visiting this location:
Quests
Involving:
Mobs
The following creatures are found within this area:
Lore
"A fortress was constructed in Nan Tornaeth long ago. It was built as a series of strong watchtowers in these high hills, connected by elegant spans.
Minas Ciliant was the north-western corner of these towers." - Deed Text
Gallery