Midsummer Festival
Jump to navigation
Jump to search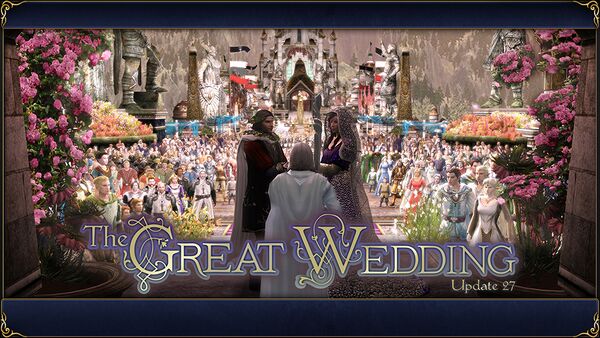 Overview
The Midsummer Festival is a special event celebrating the wedding of Arwen and Aragorn. Various activities award Midsummer Tokens which players can exchange for cosmetic items, decorations, steeds and more. There are also special wedding only rewards in hobbit gifts. The main celebrations take place in Minas Tirith (Midsummer) with additional activities to earn tokens and special crafting items in Thorin's Hall, Celondim, Duillond, Bree and at the Party Tree.
Dates
2020: June 30 - August 4
2021: June 17 - July 11
Festival Grounds
(Note - you'll need to use the quest reward map to discover the Minas Tirith stable before you can use swift travel, if your character has never been there before.)
Festivities
Midsummer Preparations
Various people in Minas Tirith (Midsummer) and around Eriador need help in preparing for the Midsummer Festivities surrounding the Wedding of King Aragorn II Elessar to Arwen Undómiel.
Visit Fealeth near the city stables to begin assisting in the preparations.
A Long-awaited Banquet
During the Wedding Banquet the members of the Fellowship have need of your help.
General Festival Events
The following events are also held during every seasonal festival:
Inn League and Ale Association
The Inn League and the Ale Association are running their activities during the Midsummer Festival.
Festival Dances
During all seasonal Festivals, Dance Leaders will teach characters up to eight special racial dances (two from each Race) by completing dance lessons. There is one Dance Leader located in each of the festival grounds of Thorin's Hall Inn and The Festival Garden in Ered Luin, The Party Tree in The Shire, and the Festival Grounds in Bree-land.
Dance lessons take place approximately every 20 minutes, and the quests are available for about 5 minutes before the dance begins. As of U20, the quest start times are random.
When the Dance Leader starts, target the leader and follow their instructions using the commands /dance1, /dance2, or /dance3 as they instruct you. The time to perform each step decreases with the quest's progression.
At the end of the lesson, the Dance Leader returns to their original position and you are able to select your reward: either the first or second dance emote from that race. Complete the lessons again to learn all the dances!
Festival Horse Races
Each festival brings exciting horse races to The Shire Race-track and the Bree-land Festival Grounds. By completing a race in time, players can win festival tokens which can be exchanged for festival rewards.
Quests
The Inn League Reputation Quests

Covert Reparations series

If you're playing both sides of the fence, and running quests for The Ale Association as well, you will unlock the Covert Reparations series after successfully completing An Irritating Initiation.

After completing the first time, you no longer visit Allward Chubb, just visit Oli, Kopur, Grimar and Herluf directly.



The Ale Association Reputation Quests

Ale Association Challenge



Deeds
Midsummer Festival NPCs
See Category:Minas Tirith (Midsummer) NPCs

Pelennor - Minas Tirith (Midsummer)
Festival Items
Feredis - The Citadel (Minas Tirith (Midsummer))

Melthend - The House of Craft (Minas Tirith (Midsummer))
Gallery
Cosmetics
Housing Decorations
Food Items
Lanterns
Other
Steeds
Pets
Scenes