Midsummer Festival
Jump to navigation
Jump to search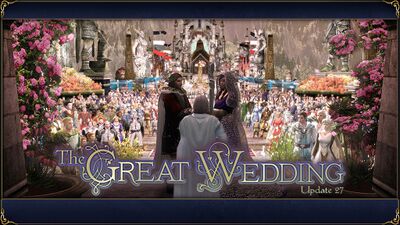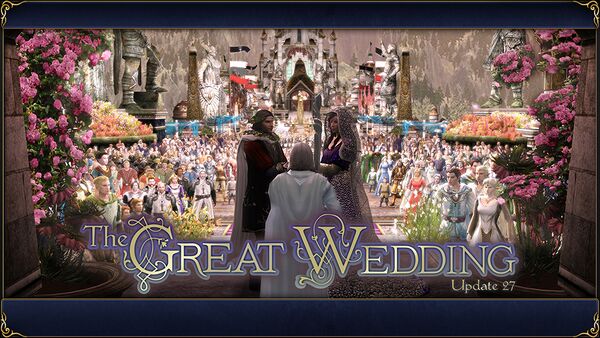 Overview
The Midsummer Festival is a special event celebrating the wedding of Arwen and Aragorn. Various activities award Midsummer Tokens which players can exchange for cosmetic items, decorations, steeds and more. There are also special wedding only rewards in hobbit gifts. The main celebrations take place in Minas Tirith (Midsummer) with aditional activities to earn tokens and special crafting items in Thorin's Hall, Celondim, Duillond, Bree and at the Party Tree.
Dates
2020: June 30 - August 4
Festival Grounds
(Note - you'll need to use the quest reward map to discover the Minas Tirith stable before you can use swift travel, if your character has never been there before.)
Festivities
Midsummer Preparations
Various people in Minas Tirith (Midsummer) and around Eriador need help in preparing for the Midsummer Festivities surrounding the Wedding of King Aragorn II Elessar to Arwen Undómiel.
Visit Fealeth near the city stables to begin assisting in the preparations.
A Long-awaited Banquet
During the Wedding Banquet the members of the Fellowship have need of your help.
Quests
Deeds
Midsummer Festival NPCs
See Category:Minas Tirith (Midsummer) NPCs

Pelennor - Minas Tirith (Midsummer)
Festival Items
Feredis - The Citadel (Minas Tirith (Midsummer))

Melthend - The House of Craft (Minas Tirith (Midsummer))
Gallery
Cosmetics
Housing Decorations
Food Items
Lanterns
Other
Steeds
Pets
Scenes