Ghashan-kútot
Jump to navigation
Jump to search
This page is about the instance. For the location, see Ghashan-kútot, the Halls of Black Lore.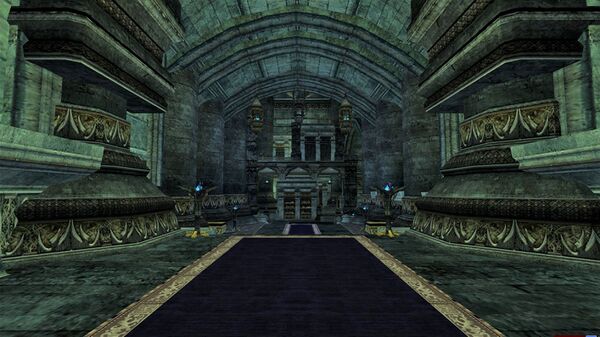 Location
This instance is part of the Minas Morgul Instance Cluster.
Ghashan-kútot, the Halls of Black Lore
"Long ago, this was a great hall of Númenórean wisdom and learning. A shining beacon high in the Moon-lit City. Until it was set to the torch by the Witch-king, and from the ashes, an endless repository of sorceries and secrets; the blackest knowledge. Here, I continue my life's work."
Difficulty Level
This is a scaled instance, designed for a Solo / Duo or Fellowship (6 players) level 121 and up.
It is available in the Instance Finder after completing the deed Discovery: Ghashan-kútot - the Hall of Black Lore.
Estimated completion time is between <40 - 60> minutes.
Quests
Deeds
Known Deeds for this instance (usually bestowed upon first entrance) include:
NPCs
Creatures
These mobs are encountered within Ghashan-kútot:
Click [+] to expand a list of creatures.
Instance Overview
After defeating the Warden of the Archive, the boss fights become available. These are 3 series of fights.
Bosses no. 1-3: These change from week to week. Possible sets include:
   * Vrarz the Cook - Udúnion - The Ring-forge of Orthanc
   * Caerlûg - The Lost One - Gurvand
   * Gurthúl - Gúrthul - Gorothúl

Boss no. 4: This changes weekly. Possible bosses include:
   * Skorgrím Dourhand surrounded by a ring of Dourhand dwarves. They cause damage if you are knocked back to them.
   * Núrzum

Walk-through and Tactics
< Basic walk-through commentary>
Clear mobs until you get to the center courtyard, where above and to your right (north) sits Dolguzigir. Approach his throne and he will start a dialogue, after which the Chronicle of the Third Age book will appear in the middle of the courtyard. You will read (use) this book to spawn a series of bosses, each of which you must defeat before proceeding to the next phase. Stay near the middle of the courtyard before reading the book so you and/or the NPCs are not caught outside when the bosses start to spawn.
Defeat three bosses, read the book again, and defeat one more, then make your way up the staircase under the throne and defeat Dolguzigir
Tips
If running Solo/Duo and you have Faeron and Rhadrog with you, they tend to get stuck on all the stairs and bookshelves
Rewards
<organized lists of loot by tier, level or chest> {{< Lootbox > | |Item:reward name 1 |Item:reward name 2 |Item:reward name 3 }}
Map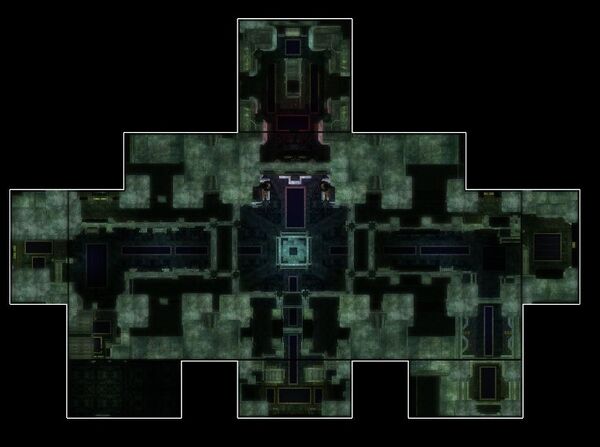 Settlements, Areas and Landmarks of the Morgul Vale

Areas:
Cirith Ungol • Minas Morgul • Rath Dúath • Thuringwath • Torech Ungol
Settlements:
Echad Taerdim • Echad Uial • Estolad Lân • Taen Orwath
Landmarks:
Annon Morgul • Aufaltor, the Fane of the Eye • Banám Lugaun • Bâr Maenath • Bâr Nírnaeth, the Houses of Lamentation • Barad Angarth, the Gate-wardens' Keep • Barad Arthir, the Lofty Watch-fort • Barad Cúron, the Tower of the Crescent Moon • Barad Elenath, the Star-gazers' Spire • Barad Orhant, the Tower of the Treegarth • Búrzangh, the Shrouded Forge • Cadar Skûs • Dâr Grazadh, the Hall of Rot • Dáru Lagúrz, the Broken Houses • Eithel Gwaur, the Filth-well • Falch Gurth • The Garth of Angáth • Gath Daeroval, the Shadow-roost • Ghashan-kútot, the Halls of Black Lore • The Gloomwaters • Gorthad Nûr, the Deep-barrow • Gúliant • Kaslokroz • Laugdursh, the Dire Span • Râkh Mathán • The Remmorchant • Roz Dagalur, the Fiend-house • Shakam Moz • Song-house of Lindalírë • The Straight Stair • Taurlingol • Torech Ungol • Torgris, the Hidden Cleft • Ufurok, the Dreadfast • Uialrond, the Dome of Evening • The Winding Stair • The Wracking-hall • Zhar Dushgoi • Zhar Skator
Interiors:
—
Instances:
Bâr Nírnaeth • Eithel Gwaur • The Fallen Kings • Gath Daeroval • Ghashan-kútot • Gorthad Nûr • The Harrowing of Morgul • Remmorchant