Fasach-falroid
Jump to navigation
Jump to search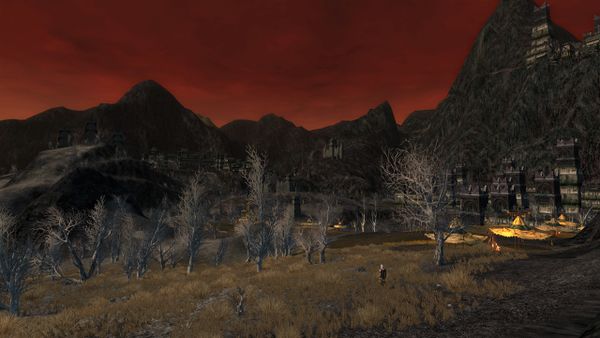 Fasach-falroid is an area within Angmar in the western region.
This area is located north of Fasach-larran and under the towering Carn Dûm to the north-east. Large hordes of orcs and Angmarim have been sent to control this area through terror and war, driving off almost all people who honour justice, freedom, or any hint of morals. Just like its sister area of Fasach-larran, wargs can be found prowling throughout looking for their next meal. Hill-men swayed into pledging their allegiance to the Iron Crown have been met with subjugation and thralldom as they are forced to hunt and farm to feed the forces of Angmar. A small group has silently opposed these oppressors from within the walls of Donnvail. Unfortunately, the western town of Dûn Covád remains entirely inhabited by orcs and Angmarim, guarding the long passage to Carn Dûm by use of grim Ancient Watching-stones.
There is little difference in environment to its counterpart to the south, though it seems the land may be more fertile, as the hill-men have managed to set up a handful of fields where they cultivate pea-plants hardy enough to survive the conditions. Atop a hill set between the two areas lies the Cairn of Honour, where tribes can initiate the ritual of Clúcath to determine the leading tribe.
Fasach-falroid is void of any services and settlements aside from the small group of rebels huddled within the eastern town of Donnvail, remaining loyal to the free Trév Gállorg tribe. The nearest services are found in Aughaire as the outpost of Fail-á-Khro only provides a Camp Site Fire and quest givers for the area.
Note:The Gates of Carn Dûm Key is required to open the gate to Carn Dûm at the end of the ridge overlooking Fasach-falroid.
Landmarks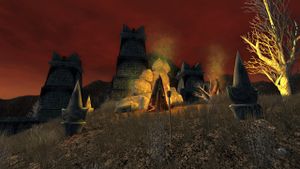 These landmarks are located within Fasach-falroid:
NPCs
See list of all NPCs within Fasach-falroid

Quests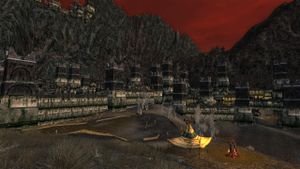 See "starting quests" and the landmarks for more quests
Involving:
Mobs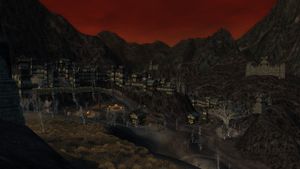 The following creatures are found within this area:
Maps
Gallery