Carn Dûm
Jump to navigation
Jump to search
This page is about the level 50 area in Angmar. For the lvl 50 (classic) instance, see Carn Dûm (Instance). For the level 140 area, see Ephel Angren.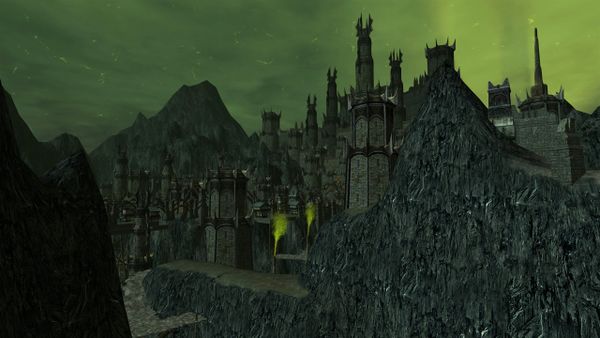 Carn Dûm is an area within Angmar, furthest to the north.
Peer into the frightening fortress-city of Carn Dûm, built upon the slopes of the Mountains of Angmar by the Witch-king, who ruled with an iron fist. Though the Witch-king was driven out ages ago by an army of Elves and Men, rumours abound with stories that Carn Dûm stands poised to strike.
This area is mainly known for its two world instances; the same-name Carn Dûm and Urugarth. But other characters visit this area just for the Epic quests. Either way, there are three camps whereof Tármunn Súrsa provides a little more services, such a Milestone, Camp Site Fire & Mustering Horn, and all quest-givers of the area.
Services
NPCs
See "list of NPCs" within the area
Carn Dûm NPCs
All NPCs within Carn Dûm (Area), unbound to any location (including NPCs within Carn Dûm (Instance)):
Sara Oakheart - Quest Instance

NPCs bound to the specified locations:
NPC
Function
Coords
Supplies
Nomad Healer
Supplier

[12.3N, 31.8W]

Nomad Provisioner
Provisioner

[12.3N, 31.4W]

Others
Éa
Quest

[12.3N, 31.8W]

Esmë
Quest

[12.3N, 31.8W]

Glyn
Quest

[12.3N, 31.8W]

Gormal
Quest

[12.1N, 31.9W]

Gwathryn
Quest

[12.1N, 32.1W]

Odbjorn
Quest

[12.4N, 31.8W]

Rhúnelleth
Quest

[12.0N, 32.0W]

Táni
Quest

[12.3N, 31.8W]

Clan Watchman
Defender
Narucham - during quest
Erscin - Quest
Quests
See "starting quests" and the landmarks for more quests

Creatures
The following creatures are found within the area (instances excluded):
Maps