User
:
Ravanel
Jump to navigation
Jump to search
About Me
When I was twelve years old, I read The Lord of the Rings and immediately became a Tolkien fan. I was very excited when I heard movies were going to be released, similar to when, years later, I heard an online game featuring Middle-earth was in production. I started playing the year the game was released, and was enchanted while walking through Tolkien's world. I had close to zero gaming experience and knew nobody, but as these things go in such games I got to know friends over the years, and I got hooked on group play.
My active characters used to be found on Gilrain, a server several wiki editors have come to play and test on. Since the server merges, I've moved to Laurelin.
I'm not extremely active at the LOTRO-wiki at the moment, but I try to add things I find missing here and there. In the past, I've been particularly involved with creatures and anything involving lore-masters. While editing, you can catch me online on Discord. Feel free to join me there, or ask me something if you need help.
Below an overview of my characters and some links, codes and templates I regularly use. You can also check my blog at ravalation.blogspot.com.
Characters on Laurelin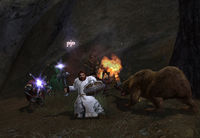 Characters marked with a (*) wear the Stone of the Tortoise and stand at the ready for nostalgia raiding.
Pages
Frequently used codes for editing
% ×
' = ' (how to do an apostrophe in templates; see edit for correct code)
Insert image:
[[File:....jpg|400px|right|Description.]]
[[File:....jpg|thumb|400px|right|Description.]]
|image = <image name> (for creature template)
''Click ''[+]'' to expand a list of mobs found within the instance.''
<categorytree mode=all depth="0">Sixteenth Hall Mobs</categorytree>
| disambigpage = Item:Thunder Lord&#39 ;s Fall (without space)
{{Color|Khaki|Text}}
Coordinates: {{Tooltip Coords|Map|S|W}}
{{toc-right}}
__NOTOC__
{{Unsigned|Name|0:00, 1 January 2016}}
{{:Item:NAME|mode=link}} (no icon) OR {{:Item:NAME|mode=imlink}} (with icon) See Template:Tooltip for a complete list.
{{subst:PAGENAME}}
Text (Faction) {{!}} Text (for use within templates)
<s> Crossing out </s>
{{Obsolete | patchlink=[[Update 12, Helm's Deep - November 20, 2013]]| type=skill | see_also= | nocat= }}
Removing categorization invoked by template: | nocat = true
Moving to top of category: [[Category:Lore-master Skills|*]]
Stub types or {{Stub/Insert type}}
Category tree: page
Duplicate file search: [1]
Location templates:
Creatures
{{Creature
|name          = 
|level         = 
|genus         = 
|species       = 
|type          = 
|max-health    = 
|max-power     = 
|alignment     = 
|location      = 
|finesse       = 
|conj-immune   = 
|stun_mez-imm  = 
|root-immune   = 
|cry           = 
|song          = 
|tactical      = 
|physical      = 
|common        = 
|fire          = 
|light         = 
|shadow        = 
|lightning     = 
|ancientdwarf  = 
|beleriand     = 
|westernesse   = 
|frost         = 
|inspector-lvl = 
}}
== Location ==

can be found within [[Area]] in [[Region]]{{Tooltip Coords|Map|S|W}}.

== Quest Involvement ==
 are involved with the following quest:
:[[Quest:Name|]]

== Achievements ==

Killing x grants you:
:Title: Title

Killing x more grants you:
:Trait: [[Trait]] +1

''Click here for [[Deed farming locations#The Trollshaws|locations]] for slayer deed farming.''

== Drops ==
{{Lootbox||Item:Barrow-treasure|Item:Shimmering Dust}}



Table for skirmish creatures
== Location ==
'''NAME''' can be found during an encounter in the [[skirmish]] [[Quest:|]] in [[PLACE]]. The following encounter text will pop up if he is there:

Encounter: Pending

Note that it's level and power/health depends on the level and tier of the skirmish you are doing. This inspect was made in a level 65 tier 1 solo skirmish.

== Stats ==
{| class="altRowsMed collapsible collapsed"
! colspan=2 | Name
! colspan=4 | Morale / Power
|-
! Level
! Player Grouping
! width=100px | Tier I
! width=100px | Tier II
! width=100px | Tier III
! width=100px | Type

|- align="center"
| 75
| Solo
| 
| 
| 
| 
|- align="center"
| 75
| Duo
| 
| 
| 
| 
|- align="center"
| 75
| Small Fellowship
| 
| 
| 
| 
|- align="center"
| 75
| Fellowship
| 
| 
| 
| 
|- align="center"
| 75
| Raid
| 
| 
| 
| 
|}



Table for scalable creatures
== Stats ==
{| class="altRowsMed collapsible collapsed"
! colspan=2 | Name
! colspan=4 | Stats
|-
! Level
! Player Grouping
! width=100px | Morale / Power
! width=100px | Type

|- align="center"
| 75
| Small Fellowship
| 
| 
|}


Skills
== Values ==
{| class="altRowsMed centerTable"
! width="150px" | Level
! width="150px" | Power cost
! width="16px" |  
|-
| colspan=3 |
{| style="display:block; height:100px; overflow:auto;"
| width="150px" | 1  || width="150px" | 
|-
| 2  || 
|-
| 3  || 
|-
| 4  || 
|-
| 5  || 
|-
| 6  || 
|-
| 7  || 
|-
| 8  || 
|-
| 9  || 
|-
| 10 || 
|-
| 11 || 
|-
| 12 || 
|-
| 13 || 
|-
| 14 || 
|-
| 15 || 
|-
| 16 || 
|-
| 17 || 
|-
| 18 || 
|-
| 19 || 
|-
| 20 || 
|-
| 21 || 
|-
| 22 || 
|-
| 23 || 
|-
| 24 || 
|-
| 25 || 
|-
| 26 || 
|-
| 27 || 
|-
| 28 || 
|-
| 29 || 
|-
| 30 || 
|-
| 31 || 
|-
| 32 || 
|-
| 33 || 
|-
| 34 || 
|-
| 35 || 
|-
| 36 || 
|-
| 37 || 
|-
| 38 || 
|-
| 39 || 
|-
| 40 || 
|-
| 41 || 
|-
| 42 || 
|-
| 43 || 
|-
| 44 || 
|-
| 45 || 
|-
| 46 || 
|-
| 47 || 
|-
| 48 || 
|-
| 49 || 
|-
| 50 || 
|-
| 51 || 
|-
| 52 || 
|-
| 53 || 
|-
| 54 || 
|-
| 55 || 
|-
| 56 || 
|-
| 57 || 
|-
| 58 || 
|-
| 59 || 
|-
| 60 || 
|-
| 61 || 
|-
| 62 || 
|-
| 63 || 
|-
| 64 || 
|-
| 65 || 
|-
| 66 || 
|-
| 67 || 
|-
| 68 || 
|-
| 69 || 
|-
| 70 || 
|-
| 71 || 
|-
| 72 || 
|-
| 73 || 
|-
| 74 || 
|-
| 75 || 
|-
| 76 || 
|-
| 77 || 
|-
| 78 || 
|-
| 79 || 
|-
| 80 || 
|-
| 81 || 
|-
| 82 || 
|-
| 83 || 
|-
| 84 || 
|-
| 85 || 
|-
| 86 || 
|-
| 87 || 
|-
| 88 || 
|-
| 89 || 
|-
| 90 || 
|-
| 91 || 
|-
| 92 || 
|-
| 93 || 
|-
| 94 || 
|-
| 95 || 
|-
| 96 || 
|-
| 97 || 
|-
| 98 || 
|-
| 99 || 
|-
| 100 ||
|-
| 101 || 
|-
| 102 || 
|-
| 103 || 
|-
| 104 || 
|-
| 105 || 
|-
| 106 ||
|-
| 107 || 
|-
| 108 || 
|-
| 109 || 
|-
| 110 || 
|-
| 111 || 
|-
| 112 ||
|-
| 113 || 
|-
| 114 || 
|-
| 115 || 
|}
|}