Thinglad
Jump to navigation
Jump to search
Thinglad is an area within the Great River region in Rohan.
Adjacent to the southern border of Lothlórien, Thinglad is defined by its tall, grey trees with twisted, roots that drink deeply from the Great River. The forest is misty and shadowed while the skies are pale and as cheerless as the land itself.
Thinglad Locations
Settlements
Landmarks
NPCs
Quests
Starting: If you start in Lothlórien by the Vineyards stable master, and travel NE along the road, then pass the bridge without crossing, and the road turns E-SE, and keep following it, you will see two people on the road, Alfrohir and Noriel. Thinglad (Haldrith) itself will not have quest rings unless you first begin with Noriel.
Creatures
The following creatures are found within this area:
Maps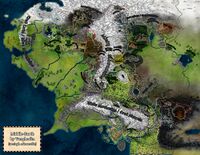 Lore
Once part of the Golden Wood, Thinglad has become a no man's land between Lothlórien and Rohan in the last 200 years.