Soldiers' Tier
Jump to navigation
Jump to search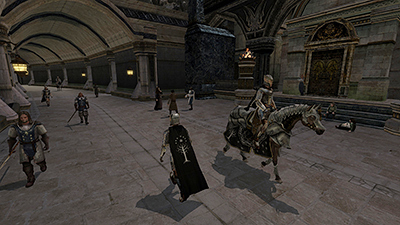 Description
Admission to the second of the Seven Circles of the city of Minas Tirith in Old Anórien, known to the people of Gondor as The Soldiers' Tier.

[65.5S, 17.6W]

is by way of the Sword-gate.

This tier is home to several ale-halls and barracks catering to soldiers and the town-guard, as well as a number of armories and the Wielding-yard.
Services
Travel
Locations
Soldiers' Tier locations from north end to south end clockwise:
| Coordinates | Directions / Description |
| --- | --- |
| [63.9S, 19.8W] | City Gaol |
| [63.7S, 19.0W] | The Wainrider's Head |
| [63.8S, 18.7W] | Wielding-yard |
| [63.9S, 18.4W] | Feast-hall of Aethrond |
| [64.1S, 18.3W] | Training Ground |
| [64.6S, 17.7W] | Hall of Laws |
| [65.2S, 17.4W] | Armouries |
| [65.7S, 17.4W] | Soldiers' Neath |
| [66.4S, 17.5W] | Hall of Watchers |
| [66.6S, 17.6W] | Court of Turin |
| [66.7S, 17.5W] | The Sword-gate |
| [66.9S, 18.0W] | Guest Barracks |
| [67.4S, 18.8W] | The Splintered Shield |
| [67.4S, 19.4W] | Captains' Quarters |
| [67.2S, 20.1W] | The Mûmak and Keep |
Interiors
Quests
Deeds
The following deeds can be advanced by visiting this location:
NPCs
Other Locations Quest NPCs