Silver Deep
Jump to navigation
Jump to search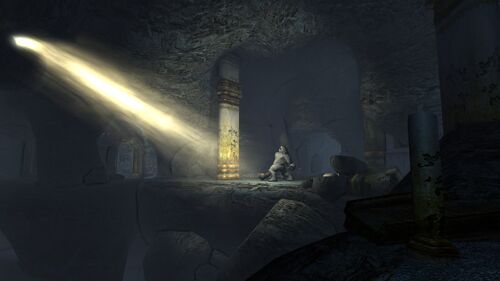 Locations
Silver Deep is a landmark and a dungeon within Thorin's Gate in Ered Luin. [14.3S, 101.7W]
This mine is located east of Frerin's Court and west of the Refuge of Edhelion. During the introduction quests for dwarves and elves this mine's uppermost section plays a significant role.
Silver Deep is part of the introduction instance; today the upper entrance is blocked, but relics show it was inside a magnificent elven building, which is assumed to be the library of Refuge of Edhelion, where Talagan Silvertongue sacrificed himself to stop Skorgrím.
Services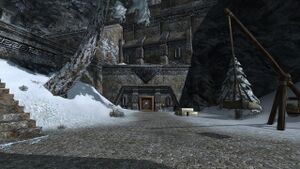 Deeds
The following deeds can be obtained by visiting this location:
Deeds are available once the introduction quests are completed.
Quests
Involving:
NPCs
Dwarf / Elf Intro Period
These NPCs only appear during the initial Dwarf introduction quest: Intro (Dwarf), Instance: Into the Silver Deep
| NPC | Function | Coords |
| --- | --- | --- |
| Gandalf | Quest | [14.5S, 101.9W] |
| Gimli | Quest | [14.3S, 101.7W] |
| Balin | Scenery | [14.4S, 101.8W] |
| Dwalin | Scenery | [14.4S, 101.8W] |
| Glóin | Scenery | [14.5S, 101.9W] |
| Gormr Doursmith | Quest | [14.3S, 101.7W] |
| Thorin Oakenshield | Scenery | [14.3S, 101.7W] |
| Kapall | Quest | Interior |
| Monsi | Quest | Interior |
| Foreman Otur | Quest | Interior |
| Tvistur | Quest | Interior |
| Vitnir | Quest | Interior |
| Skorgrím Dourhand | Quest | Interior |
| Miner | Scenery | |
| Watcher | Scenery | |
Mobs
The following creatures are found within this area:
Lore
The Silver Deep is a hall that was abandoned long ago before it was completed. The discovery of ancient Elf-ruins and a troll prompted Thorin and Gandalf the Grey to seal it off. — Deed text
Gallery