Ram Dúath
From Lotro-Wiki.com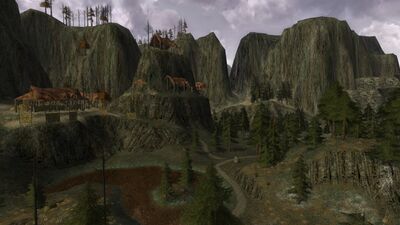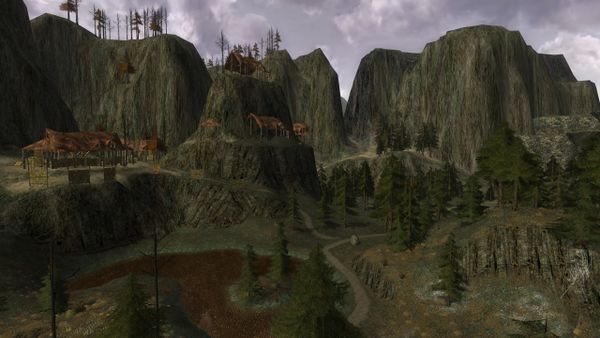 Ram Dúath is an area within Angmar in the south-western region.
Ram Dúath is a range of black, craggy mountains with maze-like and treacherous passages and dead-end rifts and ridges. In the south-west the vales and mountain faces are den to drakes, worms and other fell creatures, and elsewhere spiders and cave-claws are prowling. In the eastern section angmarim and orcs guard the eastern roads as well as the camps and fortresses they hold, here also Merrevail have settled in a cavern. It should be noted that the worms and drakes in the south-western vales are of much lower level and the rest of this area.
In the centre of the area, athwart the safe road from the North Downs to Aughaire, a friendly tribe of Earth-kins have built a small village, driven away by the hosts of Angmar. There are found some basic services, a Camp Site Fire, and ... less talkative quest-givers.
From the North Downs three paths connect to this area:
Settlements
The following settlements are found within this area:
Landmarks
These landmarks are located within Ram Dúath:
Dungeons
NPCs
See list of all NPCs within Ram Dúath


Earth-kin Scout
Quests
See "starting quests" and the landmarks for more quests

Starting
Involving
Mobs
The following creatures are found within this area:
Maps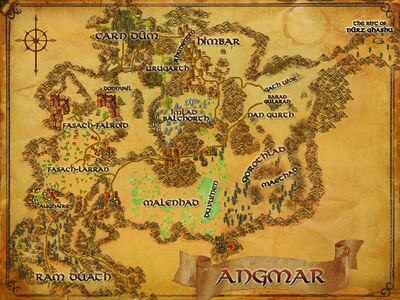 Gallery
Lore
"Far to the north of the Shire – indeed, far to the north of Bree-land and the North Downs – lies a range of black, craggy mountains that bars passage from the North Downs into Angmar beyond. This range is called the Ram Dúath. Over the course of history it has served as a fortification of the Witch-king's realm, and as a cage in which to pen his servants after his defeat. The Rangers of the North keep an eye ever trained on the mouths of its passes, watching for trouble from the cursed lands beyond.
"The passage through the Ram Dúath is maze-like and treacherous, a den to drakes and other fell creatures, as well as home to the strange Earth-kin, gentle giants who hunt the aurochs of the North Downs. Recently, armies out of Angmar have begun to descend through the Ram Dúath, threatening the North Downs and the rest of Eriador beyond. — lorebook